'Parks And Rec' Ladies Celebrate Galentine's Day Together And We're Jealous
by Valerie Williams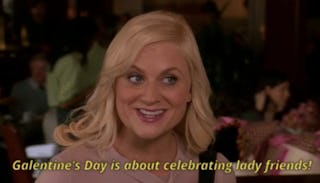 Image via Giphy
Amy Poehler and fellow "Parks And Rec" ladies took the cutest "Galentine's Day" photo
Valentine's Day is cool and all, but we already spend plenty of time all year on our partners and attending to their needs. But how many days do we devote to our girlfriends? The women who lift us up when we're down and bring us boxes of cheap riesling on the days where it's all too much. That's why there's Galentine's Day, brought to us by the best episode of Parks And Recreation ever.
And this year, Amy Poehler and some of the Parks And Rec "gals" reunited for a little Galentine's Day fun. Oh how we wish we were invited.
The tradition originated with an episode where Poehler's character Leslie Knope declares it, "only the best day of the year." The Instagram photo shared by former cast member Aubrey Plaza proves it.
"Happy happy galentine's day. These women keep me alive," Plaza writes, along with a photo of herself, Poehler, Rashida Jones, and Kathryn Hahn. Jones, who played Knope's best friend Ann Perkins, also shared the image on her Instagram account with the caption"Galentine's Day! Forever and ever." Seeing that these hilarious women are all still friends, years after the last episode of their hit show aired, is heartwarming in itself. But the purpose behind Galentine's Day makes their reunion even better.
What does the holiday entail, you ask? Knope elaborates: "Every February 13th, my lady friends and I leave our husbands and our boyfriends at home, and we just come and kick it, breakfast-style. Ladies celebrating ladies. It's like Lilith Fair, minus the angst. Plus frittatas."
Sounds pretty amazing, and still leaves the 14th open for whatever festivities our partners have (hopefully) orchestrated for us.
In the spirit of ovaries before brovaries, I fully embrace the celebration of a day that's all about my wonderful girlfriends. I love my husband, but let's be real; when I'm faced with any number of mom and woman-related issues, the first place I turn to is my group text of amazing girlfriends who are always at the ready with solutions to my problems. And if there are no solutions, offers to join me for a last-minute pedicure or evening of wine and bitching in someone's kitchen. These women deserve more than one day a year, honestly. So let's make that one day count.
This article was originally published on