Amy Schumer Shares Pic Of Her C-Section Scar On Instagram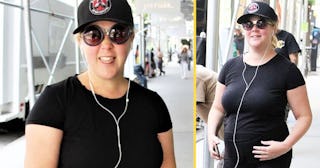 Amy Schumer/Instagram
Amy Schumer is back in her mesh underwear and this time, she's showing her c-section scar
Amy Schumer's journey into motherhood has seriously been the gift that keeps on giving. While other celebrities make pregnancy, childbirth and early motherhood look like something out of a beautifully curated magazine spread, the actress and comedienne has been keeping things so incredibly real AF — and we couldn't love her more for it. She is basically our new-mom spirit animal, and her latest social media post about the realness of motherhood just solidifies it.
After being shamed for not only wearing hospital underwear but for a having a (gasp!) c-section scar, the new mom put her haters in their place (while simultaneously making the rest of us pee our pants in laughter) with an all-new, totally hilarious and kickass Insta-post.
"I'm really sorry if I offended anyone with my hospital underwear," she snarkily wrote. "Except I'm just kidding," adding the hashtag #csection and her trademark #balmain.
In the second photo, Schumer pulled down her black leggings to reveal her hospital underwear and her scar, like the total badass that she is.
The backstory is, just last week she posted some photos celebrating the amazingness that is those hospital grade mesh underwear. In one of them, she was strutting her stuff and pushing her baby stroller down a country road. In another she was curled up with her newborn son Gene. Both were totally epic. However, if you looked very closely at the snuggle pic, you would see a faint c-section line on her tummy. While most of us consider birthing scars a beautiful thing, the trolls that scour the internet do not, apparently leaving nasty comments for the new mom.
But whatevs. Amy is just doing her thing and totally normalizing everything about motherhood that is, how do we say this, sort of gross and beautiful all at the same time? I mean, take pumping milk for example. There is no better way to feel like a dairy cow than hooking your tits up to a breast pump, right? While many of us would be horrified to share a selfie in this situation, Schumer had no qualms about documenting herself in action — and sharing the experience with her nine million followers.
And while other celebrities look like they just walked off the red carpet in their post-birthing photos, one of Schumer's first post-pregnancy pics featured her sitting on the toilet in a hospital gown. And let's all be real. We have all SO been there.
Thank you goddess Amy for reminding the world that motherhood is beautiful, ugly and hilarious all at the same time. We love you and your c-section scar to the moon and back.
This article was originally published on