Amy Schumer Jokes About Life Being 'Cancelled' Due To Coronavirus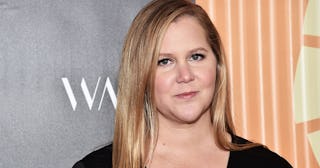 Steven Ferdman/Getty
Amy Schumer jokes that her diet and exercise routine are "cancelled" due to coronavirus pandemic
In the wake of the international coronavirus pandemic, life as we know it has drastically changed. As part of our country's battle to prevent the spread of the highly infectious and sometimes deadly virus, closures and cancellations are becoming the norm. While panic is spreading along with the virus, leave it to the funniest woman on the planet, Amy Schumer, to make light of the situation — in her own snarky way, of course. The actress shared a hilarious video on Instagram Friday, "complaining" that her healthy diet and exercise routine were being "cancelled" as part of the health crisis.
"Hey guys, so I just found out that me going to the gym today was canceled," she said in the video, also posted in her Instagram stories. "You guys know I love going to the gym but I can't make it. It's cancelled."
https://www.instagram.com/p/B9rQ8b4Jq70/
Along with her workout routine, she added that she was forced to partake in the CDC's recommended "social distancing" — which included family members.
"I was supposed to see my mom, and mom, I'm so sorry, that's gotta be canceled," she said.
Oh yeah, and apparently the coronavirus outbreak also impacted her ability to eat healthy.
"And uh, yeah, worst of all I was supposed to kind of eat better today and that's been cancelled," she joked.
After she got everyone listening (and laughing, as well) she issued a more serious message.
"So you know, everybody just be safe, wash your hands, and it's all cancelled," she concluded.
Hollywood stars are doing their part to contain the virus, which as of Friday, has infected over 1,743 people in the United States and is linked to 41 deaths. Tom Hanks and Rita Wilson, who announced they had tested positive for COVID-19 earlier this week, gave fans an update on their health condition on Friday.
"Hello folks. @ritawilson and I want to thank everyone here Down Under who are taking such good care of us. We have Covid-19 and are in isolation so we do not spread it to anyone else," he writes alongside a photo of himself and Wilson.
"There are those for whom it could lead to a very serious illness. We are taking it one-day-at-a-time. There are things we can all do to get through this by following the advice of experts and taking care of ourselves and each other, no?" he says.
Actor Orlando Bloom, who is expecting a baby with Katy Perry, announced on Friday that he was returning from the set of Carnival Row in Prague and would be "self-isolating" at home, according to CNN. "It's farewell from us as we're going home to be quarantined," he said in a video on his Instagram stories, surrounded by some of his fellow cast members. "We're coming home to the States. At least I'm coming home to the States because we want to get in before the quarantine."
Serena Williams also shared that she will be doing the same. "Spending the next 6 weeks in solitude," she captioned a video on Instagram. "Being a wife. Being a mom. Cooking. Cleaning. Spring cleaning. Face mask. Makeup tutorials. I'll let you know how it goes…. stay safe everyone. This is serious. 🙏🏿"
This article was originally published on