Amy Schumer Vows To Never Take A Fan Photo Again Thanks To One Father
by Maria Guido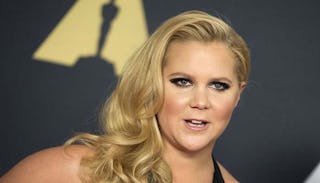 Actress/comedian Amy Schumer attends the 7th Annual Governors Awards honoring Spike Lee, Gena Rowlands and Debbie Reynolds, in Hollywood, California, on November 14, 2015.AFP PHOTO /VALERIE MACON (Photo credit should read VALERIE MACON/AFP/Getty Images)
Father demands a photo, Amy Schumer strikes back
Amy Schumer claims she's never taking a fan photo again, thanks to the actions of one dad in Greenville, South Carolina.
Schumer was walking down the street when a man approached her and "scared the shit out of her." According to her Instagram account, her ran up and put a camera in her face, and when she asked him to stop he refused.
"This guy in front of his family just ran up next to me scared the shit out of me, " she writes. "I asked him to stop and he said, 'no it's America and we paid for you.'"
"This was in front of his daughter," Schumer writes. "Great message to your kid. Yes legally you are allowed to take a picture of me. But I was asking you to stop and saying no."
Yes, celebrities give up the benefits of anonymity when they become famous. But they don't give up the right to personal space. You can't demand anyone do anything, certainly not because you feel a sense of "ownership" because you may or may not have bought a ticket to a comedy show. But, there are two sides to every story, and after his photo went viral thanks to Schumer, the dad — Leslie Brewer — reached out to Fox Carolina.
"I did it in a non-threatening way," Brewer told Fox. "She says I got all up in her face, and it was completely different from the video." You can see his Instagram video of the interaction here. You can't really decide what someone else considers non-threatening, FYI. But Brewer claims Schumer came back and confronted him in front of his daughter, which rubbed him the wrong way. "Brewer said he was upset when Schumer brought his daughter into the conversation and the two had a disagreement about him recording the video," Fox Carolina writes. "He said Schumer began walking away but then turned around and came back. He thought she was going to apologize but said instead, she told him she was going to take his picture and share it with her four million followers."
Celebrities are more accessible than ever before. Pre-internet, the average person didn't expect to engage their favorite celebs and they certainly weren't privy to so many personal details of their lives. Social sharing apps that celebrities use, like Instagram and Twitter, can give the illusion of transparency — heck they can even make people feel like they are intimate friends. But… we're not. A stranger is a stranger, whether they are famous or not.
And walking up and demanding a photo with someone you don't know is not cool. And if you do that, you should be prepared to also have your image shared — and their social media reach is A LOT bigger than yours.
This article was originally published on