Amy Schumer Shuts Down Comment About How She'll 'Cope' If Son Has Autism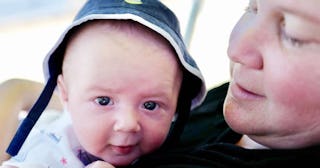 Amy Schumer/instagram
Friendly reminder that Amy Schumer's husband has autism spectrum disorder
Amy Schumer is nothing if not completely forthright in everything she does, especially as a new mother to baby Gene. Since sharing her husband Chris's autism diagnosis in her Netflix comedy special, "Growing," earlier this year, she's answered fans' questions about it without any hesitation. She responded similarly when asked about her infant son and autism earlier this week.
On Sunday, Schumer posted a photo of her son with the caption, "Would anyone be interested in seeing a docuseries of my pregnancy and birth?"
She received plenty of affirmative answers to her question about a docuseries of her pregnancy and birth (yes PLEASE), but one commenter went a step further: "Not really, honestly," the Instagram user said. "I'd like to see a documentary of you discovering your mate is diagnosed with autism and how you cope with the possibility that your child will be on the spectrum."
Schumer wasted no time in responding in the perfect way.
"How I cope?" she responds. "I don't see being on the spectrum as a negative thing."
Honestly? BINGO. That is exactly how you answer a question about being neuroatypical. The stigma surrounding autism and other neuroatypical/neurodivergent conditions (think ADHD, anxiety, mood disorders, eating disorders, and other diverse mental and behavioral conditions) is so harmful.
What does it say, for example, that so many anti-vaccination parents would rather have chronically ill or even dead children rather than one with an autism spectrum disorder? It's truly awful. Which is why it's important people speak up with the right language and attitude — especially those with the platform Amy Schumer has.
"Am I supposed to hope my son isn't like that?" she continues. "I will pay attention and try and provide him with the tools he needs to overcome whatever challenges come up like all parents. I'd be disappointed if he liked The Big Bang Theory and Nascar, not if he has ASD."
Earlier this year during an appearance on Late Night With Seth Meyers, Schumer discussed her husband's high-functioning autism spectrum disorder.
"That's why we both wanted to talk about it because it's been totally positive," she said. "I think a lot of people resist getting diagnosed and even some of their children because of the stigma that comes along with it. The tools that we've been given has made his life so much better and our marriage and our life more manageable," she said. "I just wanted to encourage people to not be afraid of that stigma."
This article was originally published on