Amy Schumer Shares IVF Update And Thanks Fans For Sharing Their Stories
by Julie Scagell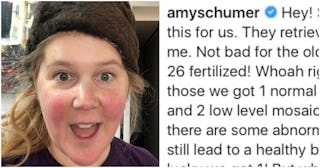 Amy Schumer/Instagram
Amy Schumer shares more about her IVF journey
We're used to Amy Schumer's humor about some of life's most difficult experiences. She was an open book during her first pregnancy with baby Gene, sharing the horrific side effects of hyperemesis gravidarum. Now, she's continuing to keep fans updated about undergoing in vitro fertilization (IVF), which she and husband Chris Fischer are doing to give Gene a sibling.
"Hey! So IVF went like this for us," Schumer shared on Instagram. "They retrieved 35 eggs from me. Not bad for the old gal right? Then 26 fertilized! Whoah right? For all of those we got 1 normal embryo from that… So we feel lucky we got 1! But what a drop off right?"
She also took time to thank all those women who reached out to share their stories with her. "I have so appreciated everyone sharing their IVF stories with me. They made me feel empowered and supported," she wrote. She also said those stories have continued to inspire her to share her story to help others going through the process.
"I wanted to tell you how mine went down," Schumer continued in her IG post. "So many women go through many rounds of IVF, which is painful and mentally grueling. I heard from hundreds of women about my their miscarriages and struggles and also many hopeful stories about how after rounds and rounds of IVF it worked!! It has been really encouraging. Thank you."
In the past, Schumer has talked about the ups and downs of IVF, sharing pictures of her bruised belly from the shots she's taken. "I'm a week into IVF and feeling really run down and emotional," she wrote earlier this year. "If anyone went through it and if you have any advice or wouldn't mind sharing your experience with me please do."
Schumer continued on Instagram telling her followers that she knows how lucky she is to have one healthy son and the money to go down the IVF route to expand her family. "I am so grateful for our son and that we have the resources to get help in this way," she said. "I just wanted to share and send love and strength to all of the warrior women who go through this process. "
She also reminded everyone that if they want to continue to reach out, she'd love to hear from them. "My number is in my bio if you are open to text me your experience or whatever you feel like," she said, making her the most down-to-earth celebrity of all time.