Amy Schumer Gives Baby Gene's Bedtime Lullaby A Hilarious JLo Remix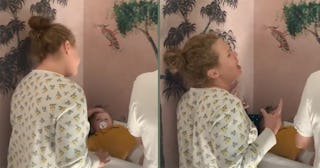 Amy Schumer/Instagram
The comedian picked the perfect moment to belt out "let's get loud!"
If you missed the moment Jennifer Lopez worked "Let's Get Loud" into her "America the Beautiful" delivery during Biden's inauguration, you need to immediately Google it. You'll need to see it to appreciate the full humor that is Amy Schumer sneaking it in during a sweet moment with her son, Gene, as he gets ready for bed.
Schumer shared the hilarious moment when she and husband Chris Fischer were getting their son Gene prepped for sleepy time. In the video, Schumer is humming a lullaby and in the middle she belts out "let's get loooooooooud" — and it was as jarring and surprising as when JLo herself did it in a moment that the world was most definitely unprepared for.
https://www.instagram.com/p/CKZcOwtJuNX/
Lopez was a guest at President Biden's inauguration and had already delivered a beautiful rendition of "This Land is Your Land." Midway through "America the Beautiful" she began yelling in Spanish, "One nation, under God. Indivisible, with liberty and justice for all." It was a moment that was unexpected and got everyone's attention for what happened next.
Lopez started singing again, but it wasn't "America the Beautiful," it was "Let's get loud!" which was — a moment.
"Let's Get Loud" was on her debut studio album On the 6, and one she brings back occasionally on tours. But shoving it into a presidential inauguration performance was nothing short of … what's the word I'm looking for … discombobulating?
Schumer obviously found the moment as hilarious as the rest of us and used it in the exact perfect moment — one that no one, including her son, would have expected.
Of course, if you follow Lopez, perhaps you're not as surprised as the masses. She sang "Let's Get Loud" while supporting for Hillary Clinton's 2016 presidential campaign and again as a mash up with Bruce Springsteen's "Born in the U.S.A." at last year's Super Bowl halftime show.
Of course, the message of the song is to celebrate who we are and where we come from, and for that, it was a good moment to remind people that we will, once again under the Biden administration, be able to do that.
Whatever your opinion of the JLo decision to pick that exact moment to belt out the words, Schumer will (fingers crossed) continue to randomly insert the verse into moments that do not, under any circumstance, warrant its use. She is a damn national treasure, and I will be laughing at this video forever.