Amy Schumer Is Every New Mom In Hilarious Toilet Photo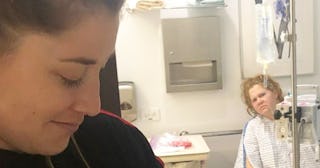 Amy Schumer via Instagram
Amy Schumer delivers some major Mother's Day realness from her hospital room toilet
We've gotta say — it's completely delightful the way Amy Schumer's handling new motherhood. Not that we had any doubts about her keeping it painfully real, as she spent her whole pregnancy not mincing words about how much her hyperemesis gravidarum was kicking her butt. At one point, she even shared a video of herself throwing up and honestly, we've never felt more seen by a celeb mom. Now, she's doubling down on her penchant for not sparing anyone the gritty details of becoming a momma by sharing a Mother's Day photo for the ages — from the toilet.
That's right — instead of going full Meghan Markle and posting an ethereally gorgeous snap of new baby Gene's precious tootsies, Schumer opted to show us a glimpse of life when she was still in the hospital after giving birth. Right from the toilet as her sister-in-law, Molly Fischer, snugged the tiny guy. She captioned the amazing pic, "Milf alert 1 o'clock," and honestly, we've never seen anything hotter.
Also, look at her face. We all know that face. We've all made that face.
Schumer is perched on the throne and any mom knows there's likely a couple of possibilities; she's either aiming for that holy grail of postpartum milestones — the first post-birth poop — or she's applying ice pads or that magical spray bottle to her on-fire lady area, because, hello. Regardless, most wouldn't exactly be eager to share that realness with the world. But Schumer's not just any new mom.
After all, she's already shown us her middle-of-the-night exhausted mom face…
… and her gorgeous and makeup-free exhausted mom face along with a side of very relatable post-birth thoughts.
During her pregnancy, she even romped nude, chasing ducks in a New Orleans park.
She also shared how 100 percent over pregnancy she was by the end with a glorious doctor's office under-boob shot for the ages.
Let's also note that the sister-in-law holding Gene is the very same one who made this amazingly horrifying birth cake for Schumer.
Her face truly says it all. Every kid needs an Aunt Molly in their lives. Every mom needs a sister-in-law Molly in their lives.
As Schumer continues to navigate new motherhood, we hope she continues to keep it this real — because it makes us all feel a whole lot less alone.
This article was originally published on