Amy Schumer Hilariously Admits Her Parenting Instincts Have Been 'Dead Wrong'
by Julie Scagell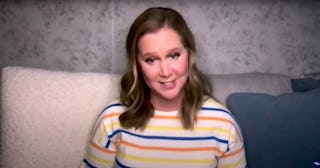 Late Night with Seth Meyers/YouTube
Schumer's honesty about parenting is so refreshing
Leave it to comedian and actor Amy Schumer to be 100 percent, completely honest about how she feels she's doing as a mom, which is apparently not that great. She opened up on an appearance on Late Night With Seth Meyers, saying so far into son Gene's life, her instincts have been "dead wrong."
Meyers asked the mom-of-one if she believes she's a good mom, and Schumer didn't miss a beat, responding: "Actually, no. It's interesting. You don't know how good of a parent you're going to be. I got some nice advice from Natalie Portman."
"She was like, 'You have more instincts than you know you have,'" Schumer continued. "And what I'm finding is that Natalie Portman is a huge liar. Because, so far, my instincts are all dead wrong."
"I've been reading this parenting book about how toddlers thrive, and all my instincts are wrong," Schumer told Meyers. "Usually, if [husband] Chris and I are gonna leave Gene with the nanny, we sneak out. We literally creep like a cartoon so he doesn't cry and freak out."
Of course, that's not what the book said. "Page one of this book is literally like, 'Whatever you do, don't sneak out. That's really bad for your child,'" Schumer joked.
I feel this so much. I, too, have terrible instincts and freeze up at the most inopportune times. My daughter, 4 years old at the time, pointed down whilst taking a bath and asked me what her vagina was called. Without skipping a beat I told her it was her "front butt," which she believed until she was almost 11. We all choose our hills to die on.
https://www.instagram.com/p/CKjHreMJqjO/
Schumer also reminded the world of the time they named their son Gene Attell when he was born. "Not to mention that we did name him, by accident, 'Genital,'" she said.
Schumer announced in August 2020 that they were changing their son's name from Gene Attell to Gene David after "some troll on the internet" pointed out that his name sounded very similar to "genital."
She added, laughing, "Why didn't you just name him ballsack weiner?"
https://www.instagram.com/p/CKZcOwtJuNX/
Schumer also told Meyers that even though she's doesn't have a handle on parenting quite yet, there are some things she's getting used to.
"At first it's like, we'd be at the playground and he'd have a meltdown," she explained. "I just wish ghost of Christmas future mom me had told ghost of Christmas past me that, 'You know how he's freaking out in the playground? Well, he's gonna do this so often that you'll become desensitized and you won't be able to feel it anymore — that's something you can look forward to.'"
Luckily, Schumer has a support network she can depend on.
"I call my friends from home for advice," she said. "But my instincts are all really bad. They're really poor. But you have to live and learn."