Amy Schumer Praises Her 'Warm, Soft, Post Baby Body' In Bathing Suit Pics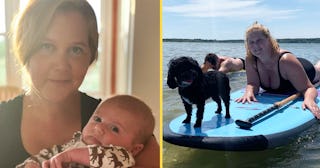 Amy Schumer/Instagram
Amy Schumer praised her postpartum body in an empowering bathing suit photo
Amy Schumer's entire pregnancy and postpartum recovery has been a masterclass in self-love and not giving a fuck. Schumer, her husband Chris Fischer, and their two-month-old son Gene went to the beach and Schumer shared a few snaps from the sand. Schumer threw up a bangin' bikini bod pic and another of her husband pushing her in a beach wheelchair and captioned the set, "we're good." But the thing we're all here for is Schumer's body-positive response to a comment on her beach photos.
It started when a fan left Schumer a really sweet comment on her bathing suit photo — which in itself is worthy of a story (a nice non-shamey Instagram comment directed at a celebrity mom, say what?!?!).
"So beautifull a normal womans body you look great!!" wrote the fan, to which Schumer responded, "I am loving my warm soft post baby body. Grateful to be feeling so strong again!"
When it comes to celebrity culture, it is actually radical to see a famous person loving her body as it is and not furthering the myth that moms need to "snap back" or get back to their pre-baby weight immediately.
We've been obsessed with Schumer's IDGAF attitude for the last year. Five weeks post-partum she posted a pic in her hospital-issue mesh underwear and moms all over the world were like, "I see you."
Unfortunately, the internet is exhausting and Schumer was shamed for having the audacity to wear big underwear. True to form, Schumer clapped back by flashing her c-section scar at the paparazzi.
"I'm really sorry if I offended anyone with my hospital underwear. Except I'm just kidding," Schumer wrote on Instagram.
Schumer was also maligned for going back to work "too soon." Schumer performed a stand-up routine two weeks after giving birth and the internet was all "how dare you!?" In response, Schumer shared a breast-pumping pic for all her *h8rz.*
"Sending out love to the moms shaming me for doing standup last night!" Schumer captioned the sarcastic snap.
When she's not clapping back, Schumer is joyfully documenting modern motherhood. Who can forget when she got her period for the first time in a year?
Schumer, you are an icon and an unburdened queen, and we have absolutely no choice but to stan.
This article was originally published on