Amy Schumer Shuts Down Trolls After Bathing Suit Pic Goes Viral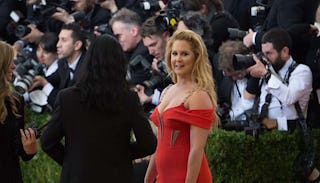 Image via Mark Sagliocco/Getty Images
After Amy Schumer was photographed in a bathing suit by paparazzi, she fires back at internet insults
Amy Schumer was presumably having a fantastic time with her adorable boyfriend Ben Hanisch over the weekend in Hawaii, when some lecherous paparazzo snuck some photos of her frolicking in the waves in a one piece bathing suit. The National Enquirer bought the photos and printed them alongside the headline, Amy Schumer — Overexposed in Hawaii.
Because you can't exist in the world as a woman without the general public (and tabloids) feeling like it's their duty to comment on your appearance, some insults started rolling in. Amy decided to respond by reposting one of the paparazzi photos on her Instagram account and sharing some words.
"I hope you find some joy in your lives today in a human interaction and not just writing unkind things to a stranger you've never met who triggers something in you that makes you feel powerless and alone," she wrote. "This is how I look. I feel happy."
Schumer is no stranger to dealing with trolls on the internet, it comes with the territory when you are a proud, outspoken woman in the public eye and you have a body type that for some reason some people don't perceive as "perfect" — whatever that is. But trying to stop anonymous people on the internet from being unkind is like trying to sop up the ocean with a paper towel.
Thankfully there are plenty of people who spend their days spreading joy instead of hate to keep somewhat of a balance between the forces of internet good and evil. Schumer's accounts are riddled with praise and support.
Schumer ends her post, "I think I look strong and healthy and also like miss trunchbull from Matilda. Kisses!"