Amy Schumer Is Unapologetic About Her Weight, As She Should Be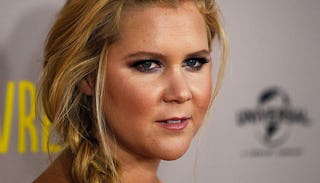 Image via Brendon Thorne/Getty Images
Amy Schumer has a lot to say about society's double standards
There is no doubt Amy Schumer has taken the comedy world by storm. She is fiercely honest, self-deprecating, and has a mouth like a truck driver, all qualities we admire in a woman. She brings up issues that matter to women in a brave way and uses humor to underscore the ridiculousness of society's double standard. The comedian dropped a new stand-up special on Netflix this week and the issue of weight was a key theme.
Weight has been an area Schumer has been very open about in the past. During a 2015 Glamour U.K. Women of the Year speech, she said, "I'm probably, like, 160 pounds right now and I can catch a dick whenever I want. Like, that's the truth. Its not a problem." Her Amy Schumer: The Leather Special is unadulterated, hilarious, and promises that same level of candor we have all come to love and expect. "I tweeted out a photo of myself wearing just underwear — nothing but underwear," she says in her special, referring to her now famous Annie Liebovitz photo that she'd shared on Instagram in 2015. "I'm holding a coffee, I'm topless in just underwear, and it goes viral. Like it was everywhere. Every news show. Every website."
"And that's when I learned the word you don't want people to use when a nude photo of you goes viral: brave."
"I am what Hollywood calls 'very fat,'" Amy jokes. "You know me. I feel very good in my own skin. I feel strong. I feel healthy. I do. I feel sexy." "[But] when I was doing my first movie Trainwreck, before I did anything, somebody explained to me, 'Just so you know, Amy, no pressure, but if you weigh over 140 pounds, it will hurt people's eyes,'" she explains. "I just bought it. I was like, 'OK, I'm new to town.' So I lost weight."
While we love that Amy can joke about the absurdity of being considered fat, at least 30 million people of all ages and genders suffer from an eating disorder in the U.S. Every 62 minutes at least one person dies as a direct result from an eating disorder. In fact, they have the highest mortality rate of any mental illness. Women are killing themselves to live up to some kind of standard set forth by society dictating to them how they should look.
After losing the weight, Amy came to the realization that she was happier before she lost the weight. "Thank god I look very stupid skinny," she continues. "My dumb head stays the same size, but then my body, like, shrivels and I just look like, a Thanksgiving Day parade float of Tonya Harding … Nobody likes it. It's not cute on me."
Schumer's most powerful one liner about body image came not as a joke, but as a reminder to women that we are in charge of our own narrative. At a gala a few years back, she said, "I am a woman with thoughts and questions and shit to say. I say if I'm beautiful. I say if I'm strong. You will not determine my story — I will."