Andy Cohen Wearing His Baby In A Carrier Will Make Your Ovaries Explode
by Thea Glassman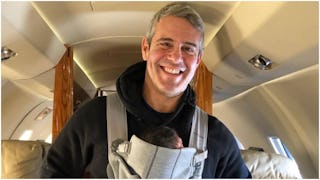 Image via Andy Cohen/Instagram
Andy Cohen shared a picture of his baby in a carrier and he looks so happy
Andy Cohen is living his best new dad life – and we're all along for this incredibly joyful ride. The talk show host shared a picture of himself with his newborn baby Benjamin in a carrier, aboard a private jet. And yes, Cohen's gleeful smile is pretty much the equivalent of a bunch of sunshine and rainbows and more sunshine.
The new dad took to Instagram to share the picture, alongside the caption: "Digging the #DadGear !!!" Is baby Benjamin already living his very best life right now? Yup, yup he is.
It's been a whirlwind few weeks for Cohen. In late December, the talk show host announced that he was expecting a baby via a surrogate and told Watch What Happens Live viewers how excited he was for this next chapter of his life.
"After many years of careful deliberation, a fair amount of prayers and the benefit of science, if all goes according to plan, in about six weeks' time, I am gonna become a father thanks to a wonderful surrogate who is carrying my future," Cohen said. "Family means everything to me, and having one of my own is something that I have wanted in my heart for my entire life."
This announcement was soon followed by a baby shower including basically all of the Housewives and it was just as messy and boozy and fabulous as you'd hope it would be.
https://www.instagram.com/p/BtWKWOWF5ya/
Then, earlier this week, the big moment finally happened. Cohen took to Instagram to share the first snapshot of his baby boy along with a caption that made hearts burst across the world. "I'm in love," he wrote. "And speechless. And eternally grateful to an incredible surrogate. And I'm a dad. Wow."
https://www.instagram.com/p/Bti8_Rel4nu/
Here's to Andy Cohen living his very, very best dad life. We're sending all of our mazels and cheering along from the peanut gallery while waiting excitedly for more sweet baby pics.