Angela Kinsey Celebrates 50th Bday With 'Office' BFF Jenna Fischer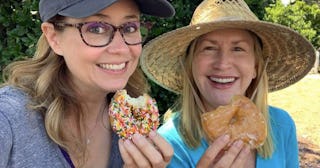 Jenna Fischer Instagram
Office Ladies Jenna Fischer and Angela Kinsey celebrate Kinsey's 50th birthday
Angela Kinsey and Jenna Fischer (aka Angela and Pam from The Office, but like, who doesn't know that?) have been BFFs since meeting on the set of the hit NBC sitcom, and on June 25, 2021, Angela celebrated her 50th birthday with none other than her girl Jenna.
The two celebrated the milestone birthday with, get this, doughnuts and a "power walk," and like, that sounds like my dream bday.
"What better way to kick off your 50s than with a birthday donut power walk?" Fischer began the birthday post in tribute to Kinsey. "Lady, I love you more than I can ever say. You bring light and joy to everyone you meet. And I mean literally everyone. Person in line at the DMV…they are having a way better time if they are stuck there with you. Person you met on an airplane…seriously, how many of the contacts in your phone are people you sat next to on an airplane?"
"You are also a professional force and an amazing Mom. I hope you are having the greatest day ever. This decade is going to be AMAZING. I just know it!" Fischer concluded the post.
Kinsey responded to her friend's sweet post, writing in the comment section: "Lady!! Thank you for my birthday surprise at work yesterday and then showing up to my house with donuts this morning! Best bff ever!! Love you! And omg I'm 50!!!"
Kinsey shared her own birthday post and said that she was going to celebrate the big 5-0 by learning to paint.
"I am so excited and thankful and holy moly half a century!" Kinsey shared. "Now if you'll excuse me I am going to learn how to paint this hummingbird."
Doughnuts, a power walk, painting in the backyard? Do you queen.
Fischer and Kinsey's enduring friendship has been well-documented over the years and the duo now host an Office re-watch podcast together called Office Ladies.
The show was popular when it aired on NBC in the early aughts, but most people have gotten into the show via Netflix in the last few years. Although the fans want a reboot, it doesn't seem like one will ever happen, so Fischer and Kinsey's podcast is the next best thing to fill that Dunder Mifflin-shaped hole in your heart.
Tons of other Office stars have stopped by their podcast as they break down the show, episode by episode, sharing their thoughts and sometimes going into behind-the-scenes details.
"The Office was such an amazing chapter of our lives and it means so much to us that we get to share some of our memories of filming it with our audiences," Kinsey said at the time of the pod's launch.
It's just nice to see our old friends, still hanging out after all these years. Now can HBO Max give The Office a "Friends Reunion Special" treatment too, because that would be iconic.