Angelina Jolie Is Back For 'Maleficent 2,' And The Pictures Will Get You So Excited
by Thea Glassman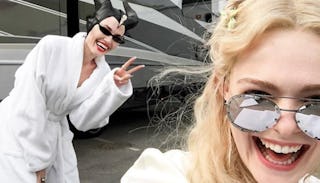 Image via Instagram/Elle Fanning
Angelina Jolie reunited with Elle Fanning on the set of Maleficent 2
There aren't a lot of things we can be certain about in this world but Angelina Jolie returning to the big screen as a complicated, vengeful fairy is sure to be a good time for all. The actress reunited with her co-star Elle Fanning for the filming of Maleficent 2, and the pictures will make you feel very, very ready to strap on your best horns and head straight back to the mystical world of Moors.
Sadly, we haven't gotten a whole lot of details about the upcoming sequel's plot BUT Fanning posted a few delightful behind-the-scenes shots from filming. Let's just say you haven't lived until you've seen Angelina Jolie photobombing. It feels both wildly out of character and also deeply, deeply satisfying.
So, what's it like just casually chilling with Angelina Jolie between takes? Fanning told ELLE that the actress is a total "powerhouse" on set.
"All of her kids are there and she's walking around—like, last time I remember, she was walking around in the whole Maleficent outfit with two kids on each arm," Fanning recalled. "She's a working woman and a mother, and that example is such a great one for me to see. You can do it all."
Might I remind you that Jolie has six kids in total? She truly wins every single multitasking award there is.
Surprisingly, playing Maleficent was actually somewhat of a struggle for Jolie. She told Entertainment Weekly that the role presented a real challenge — and this is coming from the woman starred in Girl, Interrupted, literally the most emotionally grueling movie of all time.
"[Maleficent] is bigger than me. She's on a different level of performance that I have never done,"Jolie explained. "She's very still. She's very sure of herself, but I couldn't figure out her voice, I kept playing with these different types of British voices, making my voice darker and scarier."
Okay, I am all sorts of ready to see Jolie return to the big screen as this dark, scary, troubled fairy. Also equally happy to get more pictures of her gleefully photobombing. Just more Angelina Jolie, all the time, please.