10 Free Anime Coloring Pages That'll Turn You Into An Otaku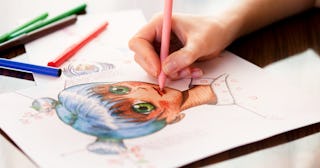 portishead1/Getty Images
Is your little artist looking for a challenge? Or, hey, maybe you're the one hoping to sharpen your art skills. Well, we've got three words for you: anime coloring pages. Because anime printables often include many small details, they require a bit more finesse than other coloring pages. So, for budding artists and animators, you can't ask for much better (or more fun) practice. And if you truly want to immerse yourself in this super-cool art form, we recommend pairing these pages with a bunch of hilarious anime jokes, insightful anime quotes, and even a quick read-through of some fascinating anime names.
Bonus: These coloring pages can double as presents! Since many people admire anime so much, anime prints are a popular wall decor choice in homes. Drawing and coloring anime also serves as a great activity to do with your kids — perhaps especially if you have a preteen just getting into this art form. As a parent, you'll probably soon hear about all of the great anime shows currently available for streaming. But even if you're not fond of anime cartoons, anime coloring pages can be a fantastic way to familiarize yourself with the style. In other words, they'll give you a readymade conversation starter to use with your teen or tween.
So, get ready to transport yourself to a new and exciting world with our collection of anime coloring pages. When your family finishes these, keep the fun going with our Pokémon coloring pages, video game coloring pages, and toy coloring pages.
Free Printable Anime Coloring Pages
Anime Coloring Page No. 1
Haven't you felt this way before? Your song comes up on the playlist, and it completely changes your day. If you or the young artist in your family is also fond of music, this is a great coloring page to kick off your coloring time. Make sure to use bright colors for the hair! Green, pink, or blue would all look phenomenal. You can kick up the anime vibes even more by listening to J-pop while you work.
Anime Coloring Page No. 2
You may look at this anime character and assume only one actor would voice her. So, you'd probably be surprised to learn that the anime character Eucliwood Hellscyth from Is This a Zombie? was voiced by 22 different actors.
Anime Coloring Page No. 3
This coloring page looks like a complete work of art. But did you know that anime creators often feel anime doesn't get the credit it deserves? Those within the anime industry shun the cartoon label, citing anime's complex storylines and in-depth character development as reasons it qualifies as a higher art form.
Anime Coloring Page No. 4
Anime eyes can be so expressive! You could use this page to create an entire off-shoot activity. How? Cut out each pair of eyes and have your aspiring anime artist create individual characters using each set.
Anime Coloring Page No. 5
You could even use these sets of eyes to create an anime series storyline. We suggest looking to the world's longest-running animated television series Sazae-san — which, as you probably guessed, is anime! The Japanese yonkoma manga show first aired in 1969 and still runs today, totaling over 7500 segments. Anime doesn't just come in a series form, either. Did you know Spirited Away was the first anime film to receive an Academy Award nomination? So, don't be afraid to roll up your sleeves and get started on an anime screenplay.
Anime Coloring Page No. 6
If you need more proof anime series are more than simple cartoons, consider this: It typically costs between $100,000 to $200,000 per episode to create. And considering the longest anime is over 7,500 episodes long, that's a lot of bank.
Anime Coloring Page No. 7
When many people think of anime, they think of drawings like this. And they're not wrong — even though there's a lot more to it. If you're a Sailor Moon fan, you may choose to color this anime drawing in the same style. This is another version that allows some creativity when it comes to her wardrobe, so don't be afraid to dress her in something you'd love to wear yourself.
Anime Coloring Page No. 8
This anime girl has one eye wide open, but we recommend keeping both of yours open. Why? Because when a manga reader finishes a volume, it's common practice to leave it somewhere public for someone else to find and enjoy! What a sweet tradition, right?
This winking girl looks a lot like Ty Lee from Avatar: The Last Airbender. Your kid may be a fan of ATLA, and if they are, here's an interesting note. Zuko, one of the main villains in the series, was added to the series at the last minute! The writers felt the story needed more danger.
What is anime?
If you've stumbled across this page and feel a bit confused, you might be wondering what anime is. So, what is anime? Simple — anime is a common animation style in Japan that's often used in television shows and movies. In fact, according to the Japan External Trade Organization, anime TV and films account for upwards of 60 percent of animation-based entertainment globally. One reason anime is so popular because many of the series can easily attract both adults and young adults. The plots are often a bit magical, making them a dynamic view for many reasons. If you're looking for something new to watch that's uplifting and has a different tone of humor, then anime may be an excellent choice.
Click here to print all of the anime coloring pages at once!
This article was originally published on