Anna Faris Speaks Bluntly About The Sexist Double Standards Moms Face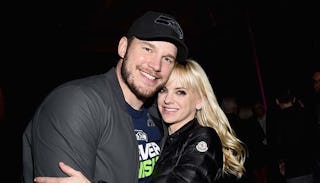 PHOENIX, AZ - JANUARY 31: Actors Chris Pratt (L) and Anna Faris attend the Maxim Party with Johnnie Walker, Timex, Dodge, Hugo Boss, Dos Equis, Buffalo Jeans, Tabasco and popchips on January 31, 2015 in Phoenix, Arizona. (Photo by Michael Buckner/Getty Images for Maxim)
Anna Faris talks about her role as "mother"
Parenthood is great. It's also tedious, terrifying, incredibly difficult, and sometimes really, really boring. Anna Faris spoke to HuffPost Live this week, and she was refreshingly honest about the trials and tribulations of early motherhood and how differently people respond to her role as "mother," as opposed to her husband Chris Pratt's role as "father" — especially professionally.
"As a woman, your identity changes. You are now a mom. So that's the most important job in the world and the pressure and the guilt… and all the things that are wrapped up in that. I don't think anyone can really prepare you for [motherhood]– even though they try." Then she jokingly adds, "So, don't have kids."
It's true. No matter how much you read, how much advice you get from friends and family, and how much you yearn for children — you can never truly be prepared for how they turn your life upside down. Faris aptly describes having a baby as being akin to experiencing a tidal wave: "I definitely grappled with the idea of 'Who am I now?' The way I describe it is like a tidal wave. There was before the tidal wave, and there's after the tidal wave."
Moms in Hollywood face the same work/life question we non-famous moms do: how do you balance your work with your role as a mom? Can you think of the last time a man was asked that question on a red carpet? "A common question on the red carpet would be 'How do you juggle it all?' And it's a very fair question, but not particularly fair that Chris would never get asked that question," Faris says. She admits there's a slight shift in awareness, as people are finally figuring out we need to ask men these questions too, if we are to demand answers to them from women. "But the implication is… it wouldn't occur to people to think that he'd have to juggle it all."
It's a ridiculous double standard, but at least we're recognizing it more and more. Red carpet presenters are being called out for sexist questions, and men in Hollywood are freely gushing about their kids. Having children is wonderfully life-changing, but there's no reason for people to assume that it's more life-changing for women than it is for men. The less we make those assumptions, the better it is for everyone.