Anne Hathaway Stops Body-Shamers In Their Tracks With Recent Instagram Post
by Thea Glassman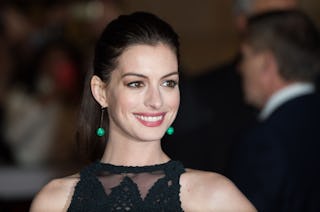 Image via Samir Hussein/Getty
Anne Hathaway called out body shamers in the best way possible
We should all really bow down to Anne Hathaway. First, she gave us The Princess Diaries (thank you LORD for that). Then, she wowed us with her singing (Les Mis), action fighting (The Dark Knight Rises), and ability to rock those really, really high leather boots in The Devil Wears Prada. Now, she's clapping back against body shammers in the classiest way possible. Mia Thermopolis would be so, so proud.
The actress took to Instagram to share a video of herself working out like a complete beast. She also penned a quick preemptive note for her haters as well. "I am gaining weight for a movie role and it is going well," Hathaway wrote. "To all the people who are going to fat shame me in the upcoming months, it's not me, it's you. Peace xx."
YAHHHHS. That is how you DO IT.
Now, here's Hathaway pumping iron, in all her fierce, confident glory. She added that she really wanted to set the video to "Fat Bottomed Girls" but there were copyright issues. It's okay. We're all fully humming it in our heads right now.
Hathaway has certainly had to deal with her share of internet assholes. There was a period when people literally called themselves "Hatha-haters" and tore the actress down for…just about everything. Because, you know, god forbid we applaud a talented woman who is literally just trying to do her job.
Anyway, Hathway told Jezebel that she's developed a "rhino skin" when it comes to public scrutiny.
"How the world feels about me has nothing to do with me," she said. "How other people treat me has nothing to do with me. But if anything that anybody said resonated with me as something I'd like to work on for myself, I took it in like that. And to that extent, I feel like I got to shortcut a lot of my growth. To that extent, even though I wouldn't have chosen to go through it, I still found a way to be grateful to it."
So much applause for taking the high road and approaching the ridiculous criticism from a healthy, smart standpoint. Anne Hathaway is here to stay. That's all.
This article was originally published on