The Ocean's 8 Cast Supported Anne Hathaway In A Way Male Castmates Couldn't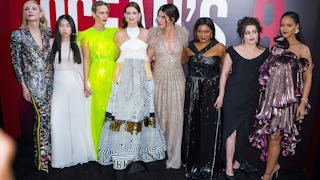 Image via Michael Stewart/WireImage/Getty Images
When Anne Hathaway needed to pump during filming, the Ocean's 8 cast was so supportive
This weekend, Ocean's 8 hit the theaters, earning $41 million at the box office and smashing records for the already-popular franchise. But although the movie proved that the world is here for all-lady action films, it also showed us something else: that eight huge female stars can work together on set, not only without throwing their egos around, but by being extremely supportive of their colleagues, both as actresses and moms.
On the Today show on Tuesday, new mom Anne Hathaway shared that not only was the Ocean's 8 cast supportive of each other when it came to sharing the limelight and working together on screen, they were also super supportive of her breast pumping needs, even when it disrupted work.
"I was so happy because I was breastfeeding and I had that moment where I was like, 'Oh, is this going to be a positive environment to be able to do that in?'" she said in the interview, surrounded by her co-stars. "Everybody was fantastic and they understood. I remember there was one moment where we were shooting a little long, and I just kind of went, 'Uhhh,' and the girls were like 'What's wrong?' And I said, 'I'm sorry, I should have pumped an hour ago.' And the girls just, like, formed around me, and they were like, 'We need a break. We need a break. Annie needs to go do this.' And it was just, like, I mean, who gets that? Everybody should."
The cast also revealed that many of the women's children visited the set during filming, and that it wasn't a disruption or bother, either.
"There are so many moms here," said Mindy Kaling. "It was nice to see that [children] can weave into your life."
All in all the Ocean's 8 women proved that instead of bickering on set like a few sexist naysayers were predicting, the female-loaded cast was just the right environment for all of the actresses to complete their work, support each other, be moms, and excel at what they do. Basically, it was a women's work environment utopia, from what they say.
"It felt ego-less" Sandra Bullock told Today, summing up the experience.
Ocean's 8 is Hathaway's first movie after a two-year hiatus she took surrounding the birth of her first child, Jonathan Rosebanks Shulman. The 36-year-old new mom hasn't just been a doting parent, she's also been speaking out about issues like paid paternal leave, equal pay, and #TimesUp.
As for the her overall experience with being a pumping and breastfeeding mom on the Ocean's 8 set, Cate Blanchett had one more thing to add about Hathaway: "It also worked for the costume."