There's A Royal Rainbow Baby Coming And We're So Here For It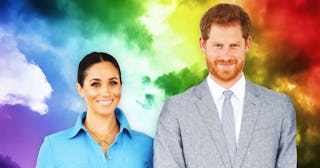 Scary Mommy, Chris Jackson/Getty and eberhard grossgasteiger/Pexels
Prince Harry and Meghan Markle may have ditched their HRH titles and stopped official work as senior members of the British Royal Family. But on Valentine's Day, Meghan announced she was "preggers," as the English tabloids say, with a little brother or sister for one-year-old Master Archie Harrison Mountbatten-Windsor (which has to be the shortest name in family history that isn't "Meghan Markle"). Any baby they have is still eighth in line for the Crown, and we are so here for it. Royal babies to bring us all together in love, fashion, gossip, and new baby smushiness all rolled into one voyeuristic celebration, complete with officially sanctioned commemorative china.
Did I mention we're here for this? Because we're so here for this.
Speculation has already begun about how Meghan, age 39, married to Prince Harry on May 19, 2018, hid her baby bump. The Daily Mail confirms a crew used "careful camera angles," while filming her appearance on a CNN 'Heroes' series on Dec. 13 (her last video appearance). She's seen only from the waist up, but with her midriff visible: classic royal baby bump masking. And with a pandemic happening, she's not regularly hitting up the Target near their California home or popping into polo matches. Thanks to COVID-19, this has probably been a totally easy royal pregnancy to hide, since the princess is imprisoned in a castle (or in this case, a 14.7 million dollar Montecito "compound" with tennis courts, 9 bedrooms, and 19,000 square feet of living space).
So When's That Royal Baby Due?!!
Meghan and Harry didn't drop any deets on a due date, though her royal baby bump looks like she's fairly far along. But their announcement only said, "We can confirm that Archie is going to be a big brother" and "The Duke and Duchess of Sussex couldn't be happier to be expecting their second child." Squee! But typical royal bore.
Speaking of typical royal bore was the Palace's reply, according to UK's The Guardian: "Her Majesty, Duke of Edinburgh, Prince of Wales and the entire family are delighted and wish them well."
But, as usual, some unnamed source "close to the royal family" has dished to US Weekly, giving us the royal baby news we deserve. "It's a dream come true," the source says. "Meghan fell pregnant again toward the end of last year. The baby is due at the end of spring."
That would make newest Royal Baby and Archie, born May 2019, almost exactly a respectably stair-stepped two years apart.
Not Royal Baby #2: This Is A Rainbow Baby
In November of 2020, Meghan penned an op-ed for The New York Times revealing that in July of that year, she had suffered a miscarriage of her and Harry's second child. She said she "felt a sharp cramp" and "dropped to the floor". "I knew, as I clutched my firstborn child, that I was losing my second," she said. Later, in a hospital bed, she wondered, "How we would heal?"
Meghan shared this piece not to reveal some voyeuristic insight in her personal life, but to shed light on the silence surrounding miscarriages, and the pain so many women suffer in silence. She shared that, "In the pain of our loss, my husband and I discovered that in a room of 100 women, 10 to 20 of them will have suffered from miscarriage. Yet despite the staggering commonality of this pain, the conversation remains taboo, riddled with (unwarranted) shame, and perpetuating a cycle of solitary mourning." She encourages women to speak their truths and share their mourning so others don't have to mourn alone.
Harry's mum would have been proud (pause for a little choking up over Princess Diana).
So Meghan and Harry's royal baby, known as a rainbow baby since it comes after a miscarriage, is especially special. And speaking of Princess Diana, so is the date of their announcement; 37 years to the day after Diana announced her pregnancy with Harry himself. Awww.
Speculation Continues
Oh, the joy of royal baby speculation! When William knocks Kate up, we have a choice of about five names (William, Michael, James, Phillip, or Albert). Since Harry and Meghan went for "Archie," anything goes for this royal baby, boy or girl (or otherwise, because we're not going to be gender binary here at Scary Mommy, thanks!). So British betting houses will have a much wider field and much greater odds on names.
What will Meghan wear?! Total swoon. Right now, we hope she's rocking pandemic-pjs like every pregnant person deserves to, but she's got to get pics taken sometime, because we need our royal baby bump fashion fix. Which designers will she use? How will she show her belly off? When a royal dons a maternity fashion, it usually sells out pretty quickly.
Where will the royal baby be born? Kate Middleton used The Lindo Wing in London's St. Mary's Hospital for all her births, reports Town and Country, while Meghan, who was rumored to want a home birth (like the queen!), gave birth to Archie at Portland Hospital in London. Of course, if Meghan gives birth in the United States, we'll have a British royal baby with American citizenship!
Boy, girl, nonbinary, intersex, English or American, no matter what name they tack onto it: whatever the royal rainbow baby is, we're here for it.
This article was originally published on