Hero Teen Shot 5 Times Trying To Shield Classmates During Parkland Shooting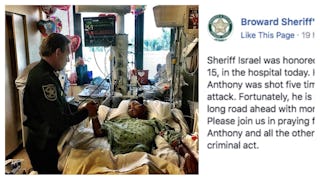 Image via Facebook/Broward Sheriff's Office
Borges's actions saved countless lives during the Florida school shooting
There have been many stories of bravery coming out in the days after the horrific shooting at Marjory Stoneman Douglas High School. One of the most moving is that of Anthony Borges, a teen who is now recovering after being shot five times protecting his classmates.
Borges, a 15-year-old soccer player who attends the high school was the last person to run into a classroom when the shooter came down their hallway, gunning down students at random. According to student accounts, Borges was trying to lock the door when he was shot.
"None of us knew what to do. So, he took the initiative to just save his other classmates," his friend Carlos Rodriguez told ABC News. Despite being shot, Borges stayed in the doorway, shielding the rest of his classmates with his body until the gunman moved on.
Rodriguez told ABC News he and the other students survived because of Borges's bravery.
"During this unspeakable tragedy, Anthony was able to save about 20 other students as he attempted to close and lock the door to a classroom. He was shot multiple times (both legs were shot, left upper thigh bone shattered and one bullet went through his back). He has a long road of recovery ahead of him but he is alive and stable," a Go Fund Me page for Borges said.
This will mean further surgeries for the teen who was just moved from critical condition to fair, says the Broward Sheriff's Office Facebook page. Sheriff Scott Israel went to see Borges, stating he was "honored" to visit him.
Borges act of heroism saved lives on a day where 17 innocent people lost theirs. It's unthinkable that our children are being put in a position where they have to even consider the possibility of a gunman coming into their place of education, let alone deciding to shield their friends from the bullets, risking their own lives to save others. This is not ok.
What's even more astounding is nothing is being done to address gun control in this country. These tragedies will, unfortunately, continue to happen like they've been happening. Twenty six people were killed at Sandy Hook Elementary — 20 between the ages of six and seven years old — over five years ago. Five years ago and we're still having these horrific tragedies happen.
Borges is a true hero. He wasn't the first and sadly he won't be the last, unless real change happens.
This article was originally published on