Anthony Bourdain Loved His Daughter. Let's Not Forget That.
by Elizabeth Broadbent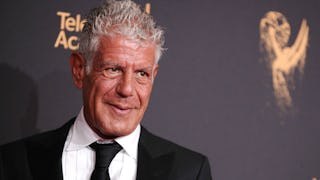 Jason LaVeris / Getty
Trigger warning: suicide
In February, Anthony Bourdain described himself as "happy" to People Magazine. He talked a lot about his 11-year-old daughter, Ariane, his child with ex-wife Ottavia Busia. She changed the way he saw his life, he said, and he felt "some responsibility" to "at least try to live" since she was born. "I also do feel I have things to live for," he said.
On June 8, 2018 Bourdain was found dead by suicide in his hotel room in France. He was in the midst of filming his CNN show, Anthony Bourdain: Parts Unknown. His death comes immediately on the heels of Kate Spade's suicide, just three days earlier, on June 5th.
It's desperately important to his memory, and to the memory of all of those who have died by suicide, to recognize that Bourdain meant what he said. In that moment, in February, he was happy. If he says he felt that he had things to live for, then chances are he truly felt like he had things to live for — and the most important among them was his daughter.
That final interview details how he insisted on spending five days out of every single month at home, with Ariane, living a normal life (this from a man who spent upwards of 250 days a year on the road). He talked about how, "there have been times, honestly, in my life that I figured, 'I've had a good run — why not just do this stupid thing, this selfish thing… jump off a cliff into water of indeterminate depth … in retrospect, I don't know that I would do that today — now that I'm a dad or reasonably happy."
I know he meant these things. I know because I've been there. In the midst of tremendous psychic pain, convinced that my children would be better served by another mother, I seriously contemplated suicide. I made a plan. I began to execute it. But I was stopped; I got help. None of this means that I hadn't found something worth living for the month, week, or even day beforehand. None of this means, most of all, that I didn't love my children. I may have loved them desperately, misguidedly, but I loved them to the moon and back.
Bourdain said, now that I am a dad. Now that I am reasonably happy. He meant those things. And his suicide does not invalidate them. Later, he says that he is "happy in ways that I have not been in memory" and "happy in ways I didn't think I ever would be, for sure." He attributes some of this to his girlfriend.
And then the darkness dropped down.
If we want to understand this, we can look to one of Bourdain's 2016 episodes. According to TMZ, he tells a psychiatrist, "I will find myself in an airport, for instance, and I'll order an airport hamburger. It's an insignificant thing, it's a small thing, it's a hamburger, but it's not a good one. Suddenly I look at the hamburger and I find myself in a spiral of depression that can last for days." Feelings like this are a hallmark of depression. And depression can come and go without warning. I know it. So does Bourdain.
He also said that he felt very isolated and had trouble communicating with those closest to him.
Though his girlfriend and daughter may have given him a reason to live, there may have come a time when he was in so much pain that he couldn't bear it any more. There may have come a time where he felt that he was such a failure, such a ridiculous mess of a human being, that they would be better off without him. What never happened?
He never stopped loving them. Ever.
He did, at one point, feel like there was something to live for, but something changed. Something shifted. What was once enough to keep him on this earth was no longer a strong enough tether. We don't know why. But we do know that his death does not invalidate his previous statements. Does not invalidate his girlfriend making him happier than he ever thought he'd be. His daughter shifting his entire life and bringing him joy.
This is desperately important. We need to realize that mental illness changes the way a person thinks. But it doesn't change the person. It doesn't invalidate their core self. It doesn't change the things a person said and did in the past. Anthony Bourdain loved his daughter. So did Kate Spade. Their suicides are not some kind of referendum to the contrary. Suggesting so, and tossing around words like "selfish," is an insult to their memories. It's also an insult to their families, their loved ones, and to the millions of people who have lost loved ones to suicide.
To them, I say: you were loved. Your loved one's death does not invalidate their love for you, or even their love for life. It means your loved one was somehow sick, desperate, or in pain, so much so that they couldn't cope any longer. Bourdain couldn't cope any more. Neither could Kate Spade. May both of them find the rest and peace they never could on earth. May we the continue to work to de-stigmatize, and offer resources and support, for others who are suffering. And may their daughters never doubt their parents' abiding love for them.
This article was originally published on