Anti-Immigration Arizona Lawmaker: 'There Aren't Enough White Kids To Go Around'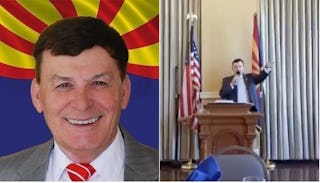 Image via Facebook/David Stringer/Twitter/David Schapira
An Arizona lawmaker is making horrific statements about how we need to keep American schools white
As the country reels from daily news reports about inhumane immigration policies that are tearing families apart, an anti-immigration Arizona lawmaker is showing just how shockingly racist some of the politicians we have in office are — and how brazen they are about their intolerance.
This week, Republican Arizona legislator David Stringer made terrifying remarks at the Yavapai County Republican Men's Forum about immigration, Arizona schools, and white voters — and it was all caught on video. During his 16-minute speech, Stringer stated that, "there aren't enough white kids to go around," and, "If we don't do something about immigration very, very soon, the demographics of our country will be irrevocably changed and we will be a very different country."
Video of the speech was shared on social media by David Schapira, a democratic candidate for Arizona Public School Superintendent, who wrote, "An AZ legislator made these overtly racist comments about our students. It's time to remove xenophobic radicals from elected office this November! We deserve leaders who understand we're a nation of immigrants who bring a diversity of experiences & ideas."
Schapira said he found the footage posted on Stringer's own Facebook page, though it has since been deleted. In the minute-long clip, Stringer went on to say:
"Sixty percent of public school children in the state of Arizona today are minorities. That complicates racial integration because there aren't enough white kids to go around. And when you look at that 60 percent number for public school students, just carry that forward 10 or 15 years. It's going to change the demographic voting base of this state. And that's what's going on around the country. Immigration is politically destabilizing. President Trump has talked about this. Immigration today represents an existential threat to the United States."
His statements make clear that, at least for Stringer, anti-immigration sentiments go hand-in-hand with racism: it's not just that he doesn't want to curb immigration in the United States, he wants to keep America white.
The video was met with shock and disgust from both sides of the aisle. In the days after his statements were made widely public, a number of prominent Arizona lawmakers called on Stringer to resign, including Governor Doug Ducey, Arizona Republican Party Chairman Jonathan Lines, and Arizona Chamber of Commerce CEO Glenn Hamer. Other GOP groups distanced themselves from Stringer's comments and called for an apology.
Hamer said, "Rep. Stringer's comments are those of someone morally unfit for public office… He should resign. If he doesn't, I expect that voters will hold him accountable in August."
But Stringer has stood by his deeply offensive statements, saying that the 51-second video was taken out of context somehow — and also attempting to shift the discussion away from immigration and toward criminal justice reform.
The lawmaker countered with a Facebook post on Thursday that said in part, "My comments about school integration were factually accurate and were intended to illustrate the challenges facing successful integration when white students are a rapidly declining percentage of the whole. This issue cries out for honest and open public discussion… I am not afraid of conservative bigwigs and I'm not afraid of liberal bullies either."
Stringer represents Legislative District 1, which is located in Northern Arizona's Maricopa County. He was elected to the Arizona House in 2016 — and this isn't the first time he's openly made racist remarks.
In 2016, for example, he said that diversity will cause the dissolution of the United States:
"A country is not just a collection of people. A country is shared culture, shared language, very often shared religion, shared ancestry, that's what nations that last are made up of. We used to be like that. But we opened up our borders in 1965 with the Great Society, the Immigration Reform Act of 1965, changed our immigration policy, and we now have a flood of immigrants, and they tell us that this enriches us. How many of you feel richer? Many of you remember 1965. How many of you really feel richer? We are a poorer country that is becoming a third-world country largely because we don't control our borders. I think immigration is a huge problem, it is destroying our country, it is tearing us apart, it will inevitably — if we don't do something about it — result in some kind of civil disorder and a dissolution of the United States as we know it. This is the history of diversity, and the history of the racial spoil system that inevitably results from a multicultural society."
Others have said that he has openly described himself as a white nationalist — and really, that's exactly what it sounds like to anyone with ears.