Anti-Vax Parents Protest In NY After Their Unvaccinated Kids Kicked Out Of School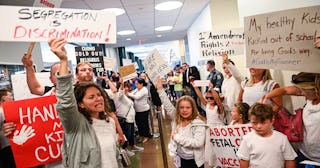 Steve Pfost/Getty
Anti-Vax parents in New York upset that their unvaccinated kids have been kicked out of school
In the midst of America's worst measles outbreak in decades, some states like New York have ended the use of religious exemptions as reasons for parents not to vaccinate their children. Parents were given a two week grace period after the start of school to provide vaccination records or their kids wouldn't be allowed back. As that grace period ends, many parents are fighting back, furious that the law is actually being upheld.
Anti-vax parents in New York have turned to social media, posting images of kids being "kicked out" of school because the new law prohibits unvaccinated children from attending school. The mandate, enacted in June, "prohibits a school from permitting any child to be admitted to such school, or to attend such school, in excess of 14 days without sufficient evidence that the child has received all age-appropriate required vaccinations," according to the New York Department of Health, Office of Children and Family Services, and the State Education Department.
The end of the grace period meant school officials either had to refuse to let unvaccinated kids enter their buildings or remove them from schools and ask their parents to pick them up. As soon as the children receive up-to-date vaccinations, they would be allowed to return.
"The science is crystal clear: Vaccines are safe, effective and the best way to keep our children safe. This administration has taken aggressive action to contain the measles outbreak, but given its scale, additional steps are needed to end this public health crisis," New York governor Andrew Cuomo said in a statement when the law was passed. "While I understand and respect freedom of religion, our first job is to protect the public health and by signing this measure into law, we will help prevent further transmissions and stop this outbreak right in its tracks."
As of September, 654 cases of measles have been reported in New York alone. Measles is very contagious, spreading through the air when an infected person sneezes or coughs, which can stay in the air for up to two hours. An infected person is contagious for four days before and after a rash appears.
Parents began posting photos and videos of their kids outside of schools and some protested in front of Governor Cuomo's offices. State health officials told BuzzFeed News that 26,217 unvaccinated New York children in public schools, private schools, parochial schools, daycare centers, and prekindergarten programs claimed religious exemptions during the 2017–18 school year.
Previously, unvaccinated children could be enrolled in school or childcare centers if their parent or guardian held "genuine and sincere religious beliefs" against immunization. Medical exemptions are still allowed in the state, but a physician with a New York license must first certify "that such immunization may be detrimental to a child's health."
This new law underscores the importance of high vaccine rates and herd immunity to protect those students who arent able to receive vaccinations for actual medical reasons. It's that population, as well as the elderly and young infants who haven't been able to receive all of their immunizations that are protected when herd immunity is achieved. Allowing unvaccinated children to put others health at risk because of undocumented, unproven theories about vacinnations is obscene.