Antoni Porowski signed up to watch hockey, but what he got was tonsil hockey
We are all Antoni Porowski. The Queer Eye star and lover of the avocado went to watch a New York Rangers game last night, but ended up seated next to a new couple (Kate Beckinsale and Pete Davidson) who could absolutely not stop shoving their tongues in each others mouths. The face he's making is the face we have all made.
No one is quite sure how the three ended up sitting next to each other, but Porowski definitely hadn't bargained on being the biggest third wheel on the planet since… the invention of the wheel.
We are all Antoni Porowski. pic.twitter.com/0zleNypnuh

— Emer Kenny (@MissEmerKenny) March 4, 2019
Don't make the same mistake we did and zoom in on Kate and Pete's mouths. Instead, let's focus on Antoni's eyes, and everything that he must be thinking in this moment. Such as: I wish I were making a crisp, homemade salsa right now, instead of seeing love very graphically bloom five inches from my face.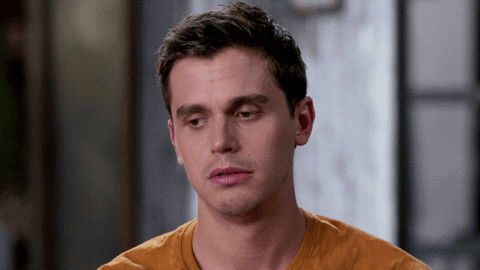 Not only is this picture visual proof that you can perfectly capture discomfort in one frame, it's also visual proof that 25-year-old Davidson and 45-year-old Beckinsale are an official item. They've been spotted around town and were seen attending a Golden Globes afterparty together, and then holding hands at an SNL afterparty this past weekend, but this is the first time we've seen them actually swapping DNA.
Davidson, a comedian and SNL cast member, has recently been getting over a broken engagement with singer Ariana Grande. Beckinsale reportedly loves comedians and as recently as as 2017 has dated other younger comics, like British stand-up Jack Whitehall an also-in-his-20s comedian Matt Rife.
Sources have told E! that Beckinsale has said Davidson is "the sweetest and nicest guy" though she's just looking for a fun and casual relationship. They live on opposite coasts, so who knows how serious things might get – but for people who live on opposite coasts, they sure seemed physically close at the hockey game.
Of course, the memes started rolling in about how much the world identifies with Antoni and the exact expression on his face. They spanned from how relatable Porowski is in the photos to how common a scene this is for queer people hanging out with their touchy-feely hetero friends.
Expectation: Pete Davidson and Kate Beckinsale.
Reality: Antoni. pic.twitter.com/AbG8PxDH6f

— Taylor Banks (@MsTaylorBanks) March 4, 2019
"Antoni in this photo is 100% me every time I go to a straight bar. Or a sporting event. When asked for comments by reporters, he surely answered, 'How do you think I feel? Betrayed. Bewildered.' Very same." @oureric writes: https://t.co/W42zl39sfH

— ELLE Magazine (US) (@ELLEmagazine) March 4, 2019
Someone please save Antoni pic.twitter.com/lszZiZealR

— ash (@aisghair) March 4, 2019
antoni 100% thinking' bout avocados pic.twitter.com/k5uKA1lrY2

— rogue GMO wheat (@lilyellora) March 4, 2019
Light a candle for Antoni Porowski, Patron Saint of Gay Third Wheels everywhere. pic.twitter.com/oQ5d1L4VUp

— Nick P. (@duke_perry) March 4, 2019
I have never felt as represented in the media as I do by @antoni totally disassociating from the straight couple sucking face next to him.https://t.co/00rEIKYnxf

— R. Eric Thomas (@oureric) March 4, 2019
Antoni don't worry we will get you out of there sweetie https://t.co/iUsUUdZnwQ

— queer eye out of context (@queereyecontext) March 4, 2019
But Porowski, who is always so kind and lovely during Queer Eye, proved to have a sense of humor about the whole thing, as he posted on Instagram this morning.
"Random pic of me and my frahnd no reason at all totes random love u Petey xo," he wrote.
This third wheel episode is also great timing, at least when it comes to marketing. The third season of Queer Eye premieres on Netflix on March 15, and a new trailer to promote the show should be dropping later today. As you might guess, the new season will involve the Fab 5 fixing up the fashionably-challenged so that they, too, can make out in front of Antoni with full confidence.