This Guy's Craft To Help Girlfriend Deal With Anxiety Is Awesome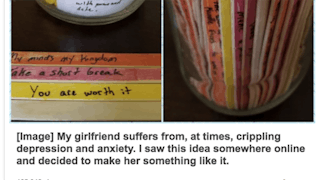 Image via Imgur
His gift helps her know she's never alone
If you suffer from anxiety and depression, you understand what small acts of kindness from loved ones can mean. When you're in a bad place, simple reminders that you're amazing and everything will be OK can make a big difference, which is what motivated one man to create the perfect gift for his girlfriend, who has both depression and anxiety.
Reddit and Imgur user bovadeez shared his brilliant idea for calming his girlfriend's anxiety, helping her take better care of herself, or just cheering her up when needed. All he used were markers, popsicle sticks, and a mason jar.
In the caption he writes, "My girlfriend suffers from, at times, crippling depression and anxiety. I saw this idea somewhere online and decided to make her something like it."
He color-coded the sticks into four categories — quotes, reminders, things to help you relax, and add a memory, which are blank. The idea is that when she needs any one of those things, she can scan the jar for the appropriate color and pull it out.
This. Is. Incredible.
On the orange sticks, he wrote motivational quotes he knew she would love from "poets, political figures, philosophers, and humanitarians across time." In the comments he explains, "The quotes were taken from some of my favorite authors that were based in inspiration and positive words. For accuracy and other quotes I just searched for inspirational quotes."
The yellow sticks are pure sweetness. He writes, "I said things that were positive and were.. reminders. So for example I said things like 'you're beautiful' 'I love you' 'don't be afraid to ask for help.'"
The magenta sticks are meant to help her take care of herself and remember to relax. He mentions in the comments that she's working on her masters and needs frequent reminders to give herself a rest. "The relaxation portions were things that I know she forgets to do like 'take a break' 'listen to your favorite song' and so on."
And the blanks? "I put a fine tipped sharpie in there with the blank ones so she record moments when she's the happiest and then she can pull one of those later when she needs it."
How sweet is he? And how perfect is this entire thing? He explains that she "becomes overwhelmed and loses control" at times, and his hope is that the jar will provide a boost when she needs it. "This will hopefully help her to regain control in some aspects and push her to take breaks and become more focused on herself," he writes.
The comments are full of people who are either in a relationship with someone who suffers from depression and anxiety, or have the illnesses themselves. Many want to recreate the jar for their own loved one, hoping it might give them a little support when they can't be there. And plenty say this kind of gift would be much-appreciated from a loved one.
One commenter summed up perfectly why this is such a perfect gift for someone with anxiety and depression. "Wow this is a really great idea. Sometimes depression makes it really hard for people to hear what you are trying to say and sometimes talking doesn't help."
This boyfriend found a simple and thoughtful way to show he's always there for his girlfriend, even when he isn't. For a person struggling with anxiety and depression, that knowledge alone is worth its weight in gold.