AOC Says She Gets Photos From The FBI Of People Who Want To Kill Her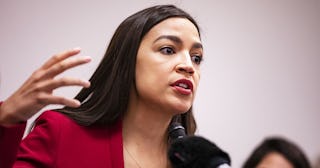 Samuel Corum/Getty
AOC's family has even been prevented from opening their mail by the FBI due to credible bomb threats
Congresswoman Alexandria Ocasio-Cortez is featured in a new profile in Vanity Fair today, where she opens up about what it's like to be a woman in politics in a country where so many people (read: privileged white people) hate her. One part that particularly stands out is where she describes the FBI sending her photos of people who want to kill her.
During the earlier half of her two-year term as a congresswoman, AOC said she used to receive stacks of these images of people who wished her harm. "I used to wake up in the morning and literally get a stack of pictures that were forwarded by Capitol police or FBI. Like, 'These are the people who want to kill you today,' " she told Vanity Fair reporter Michelle Ruiz.
https://www.instagram.com/p/BtiofwnBbcL/
It didn't stop there, unfortunately. The hate and threats extended to her family — her mother, Blanca, and her brother, Gabriel would also receive calls from the FBI warning them to not open their mail due to credible bomb threats. For a while, it seemed like anyone within close proximity to AOC was fair game for receiving death threats — the graphic designer behind her campaign posters, and even her former dean at Boston University was called the n-word for mentoring her.
"It's the epitome of being shaken to your core," Gabriel told the publication. "Getting a phone call from the FBI saying, 'Hey, don't open your mail. They're mailing out bombs.' "
https://www.instagram.com/p/BsQu3j4BtZA/
AOC also confirmed that anytime Trump publicly insults or dehumanizes her during his stump speeches and rallies, her office is flooded with abusive calls, voicemails, and emails that mirror the abuse the president directs at her.
This is the penance for having the audacity to become a woman in power, particularly a woman of color. Because she is as charismatic as she is whip-smart, she's relatable because she knows what it's like to live without privilege, money, and even healthcare, and she is exceptionally well-versed in policy as well as being excellent at communicating with people of all ages and backgrounds. This gets under the skin of the racist, lesser humans in the United States who decided that for all of those things, she must pay a price. White people will do just about anything to pretend they're oppressed in ways they absolutely are not and will stop at nothing — not even obsessively threatening the life of a congresswoman who doesn't represent them — to vehemently hurl abuse.
AOC told Vanity Fair that advice from a close friend helped keep her going, saying that to allow herself to give up would be "the point" of the threats.
"It's to get you to destroy yourself so that they don't have to destroy you." She says she told herself, "Okay, I'm not crazy. It's not that this is too much for me. It's that this is an environment with a very specific purpose."
Thankfully, AOC has her "squad" — the brilliant, fellow freshman congresswomen Ayanna Pressley, Rashida Tlaib, and Ilhan Omar — to get her through it. And no amount of pejoratives or murderous epithets can get in the way of their bond.
"There have been many times, especially in the first six months, where I felt like I couldn't do this, like I didn't know if I was going to be able to run for reelection," AOC says. "There was a time where the volume of threats had gotten so high that I didn't even know if I was going to live to my next term. Their sisterhood and their friendship, it's not some political alliance. It's a very deep, unconditional human bond."