Apple Is 100% Not Here For Gwyneth Paltrow Posting Her Photo On Instagram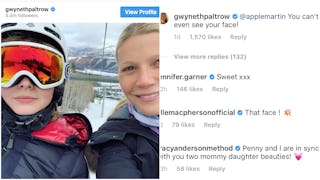 Image via Gwyneth Paltrow / Instagram
Gwyneth Paltrow is an embarrassing Instagram mom and we're here for Apple keeping her in line
Parenting a teen has never been easy, and in 2019, solidly in the age of social media, it's only gotten harder. Gwyneth Paltrow knows that firsthand from raising her now 14-year-old daughter, Apple Martin. And their recent interaction on Instagram only shows that even an A-list star and Hollywood wellness mogul like Gwyneth Paltrow can still easily be an embarrassing Instagram mom.
Paltrow and Apple appear to be on a ski trip somewhere right now, because when Paltrow posted a selfie of the two of them together, they were decked out in winter gear and looked like they were sitting on a chairlift. It's a cute pic. Paltrow is all smiles, and Apple has a slightly-less-enthusiastic face on, but teenagers, what can you do, right?
https://www.instagram.com/p/BvZwEmIhTF_/
But the truly hilarious part of this post happens in the comments, where Apple showed up to give her mom a piece of her mind for putting this online.
"Mom we have discussed this," Apple wrote. "You may not post anything without my consent."
Seriously, the kid is savage. She is not here for her mom's pride, not one bit.
Paltrow tried to defend herself in her reply to the comment, writing, "You can't even see your face!" which is a valid point. Apple's face is almost entirely obscured by her ski mask in the photo (though that may very well be what made her think it was an embarrassing pic to post, who knows?).
But the facts (and nearly 1,500 comment likes) are on Apple's side here. She's 14, which is inching ever closer to adulthood. She does have a right to decide what images of her go online, and if her mom doesn't have permission to post pics, she shouldn't be posting pics. Then again, the photo is still up, so maybe this was all tongue-in-cheek. You can just hear it in a sassy teen girl voice though, can't you?
Hopefully Gwyneth Paltrow isn't letting this get to her, because teens gonna teen. Remember being 14? Your mom could be the coolest, most understanding mom on the face of planet Earth and she still wasn't gonna win every day. Apple seems like a sweet, smart kid who's bound for success, but that isn't going to ease the occasional pain of these teen years.
Here's hoping things in the Paltrow-Martin household aren't too dramatic and that neither Gwyneth nor Apple are taking fights over Instagram content too seriously. In just the blink of an eye, Apple is going to be all grown up for real, and we're willing to bet she'll look back on her mom's embarrassing Instagramming and laugh. And until that happens, we'll be laughing for her.