After 16 Long Months, April The Giraffe Finally Gives Birth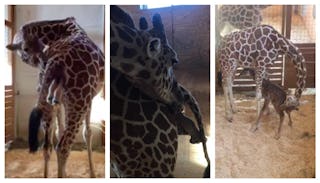 Image via Facebook
Every mom knows how she must feel
So many of us have been on the receiving end of those awful "So is that baby ever coming?"comments. Like, does anyone think they're somehow more impatient than a woman expecting a baby at any moment? Now imagine getting those annoying questions for 16 months, and you'll understand the joy April the giraffe must feel after finally giving birth.
This morning, April welcomed her fourth baby at Adventure Park in Harpursville, N.Y. with giraffe daddy Oliver looking on. According to NY Daily News, though this is not the seasoned mom's first time at the rodeo, it is the first baby giraffe born at Adventure Park, so they got a little excited about it and provided a livestream for April fans back in February. It was taking so long for the baby to come, some even started to wonder if April's pregnancy was a publicity stunt and not actually happening.
April put that chatter to rest today in one stunning moment.
The zoo's video of the birth is about 40 minutes long, but if you want to skip right to the action, zoom to minute 27. That's where things get pretty dramatic and a wee baby giraffe comes tumbling out.
It does get a bit messy, as April's placenta and plenty of blood and fluid shortly follow her baby's arrival, but us parents are no strangers to that scene. Afterward, April can be observed via the zoo's live feed adorably tending to her little one, whose gender has yet to be revealed.
Unlike our fragile human babies, April's giraffe calf (yes, that's what a baby giraffe is called) was able to stand up within minutes of birth. That's engineered by nature, as the baby has to be able to reach its mom to nurse. Baby giraffes are usually about six feet tall and their umbilical cord severs on it's way out of their mom, which is about a six-foot drop.
Anyone else kind of involuntarily cringing? Because, holy crap.
But nature knows what its doing, and it appears mom and baby are both doing well. And after months of eager anticipation, the internet is doing well too. The videos on the zoo's Facebook page are full of comments from April fans, thrilled their wait is finally ended.
According to The Inquisitr, the zoo has a naming contest in the works, so it may be awhile before we have an official moniker for the big-little one. In the meantime, we hope April enjoys her first weeks with her new kiddo. Just like any new mom.
This article was originally published on