Ariana Grande Pays Tribute To Mac Miller: 'I'm So Sorry I Couldn't Fix Or Take Your Pain Away'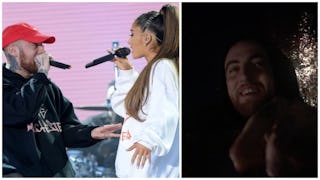 IMAGE VIA KEVIN MAZUR/ONE LOVE MANCHESTER/GETTY IMAGES FOR ONE LOVE MANCHESTER/Instagram/Ariana Grande
Ariana Grande shares a heartbreaking message to Mac Miller in Instagram tribute
One week after the death of Mac Miller, Ariana Grande is sharing her first public words on the tragic death of her ex-boyfriend. She opened up about her grief through an Instagram post that will absolutely shatter your heart.
Mac Miller, 26-year-old rapper and Pittsburgh native, died of an apparent overdose last week. He and Grande dated for nearly two years.
"i adored you from the day i met you when i was nineteen and i always will," she writes on Instagram, alongside a sweet throwback video of the two of them, clearly in love and laughing together.
"i can't believe you aren't here anymore," she added in the emotional post. "I really can't wrap my head around it. We talked about this. so many times. i'm so mad, i'm so sad i don't know what to do."
The pain of losing someone you love to addiction is unfathomable to many people, but a heartbreaking reality for even more. Unfortunately, shortly after the news of Miller's death became public, people all over the internet began placing the blame on Grande's shoulders. Miller's struggle with addiction was something he was very open about, and Grande shared her feelings on how impossible it is to be in a healthy relationship with someone who is in the throes of addiction. Trolls, however, seemed to think it was Grande's responsibility to try and "fix" Miller, and shamed her for breaking up with him during his downward spiral earlier this year. Which is not only unfair, it's misogynistic as hell — and completely unacceptable.
Anyone with a heart can imagine the pain and grief Grande must be working her way through this past week. There's no way she's not feeling this loss with every fiber of her being. A few days after Miller died, she shared a simple black-and-white photo of him on her Instagram page, and had to shut the comments off because of trolls.
In her most recent post, she concluded her tribute with the most agonizing words: "you were my dearest friend. for so long. above anything else. i'm so sorry i couldn't fix or take your pain away. i really wanted to. the kindest, sweetest soul with demons he never deserved. i hope you're okay now. Rest."
This article was originally published on