Ariana Grande Brought Out *NSYNC During Coachella And People Are Losing It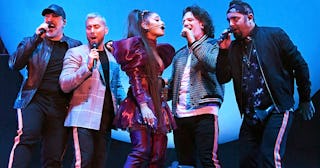 Image via Kevin Mazur/Getty
Ariana Grande reunited *NSYNC at Coachella, proving she is truly the millennial queen
As if there wasn't already enough buzz surrounding the simple fact that Ariana Grande, a proven queen, was headlining Coachella this year, she just had to go and make it an even bigger deal. What's bigger than Ariana Grande headlining Coachella, you might ask? Simple. It's Ariana Grande and freaking *NSYNC headlining Coachella. Together. Onstage at the same time.
Yeah, if you're freaking out, you're not alone.
Grande actually ended up sharing the stage with a bunch of rad special guests during her set, including Nicki Minaj, P Diddy and Mase. But no one got the crowd quite as excited as the bastion of boy band culture, the harbingers of our '90s nostalgia, *NSYNC.
The boys (minus Justin Timberlake, boo) joined Grande onstage to perform "Tearin' Up My Heart," and '90s kids' hearts everywhere basically burst.
Those vocals. That choreography. Is it getting ahead of ourselves to just proclaim Grande to be the offiial fifth member of the band, now that JT has gone MIA? Because she earned the spot. That performance was nothing short of incredible, and it already has people renaming the iconic festival "Arichella."
Seriously, people are losing their minds over this performance, and for good reason.
Relatable queen indeed. That last tweet is absolutely correct — this is what any good '90s baby would do given the chance, only Ari is the one who actually did it, which makes her our official '90s queen. We stan her so hard.
While the "surprise" performance with *NSYNC has fans kind of losing their minds, it was, um, not exactly a surprise. Grande and the boys from the band have been teasing it for days leading up to her headlining set at Coachella. Like when Grande tweeted some old concert video of the band in its heyday.
Or when she posted a video of herself bopping to some *NSYNC with the caption "best medicine."
Then there was the moment that JC Chases cryptically tweeted about a "mic check," and Grande quote tweeted him with a cute message about how his mic was definitely on.
That got fans speculating that Grande and Chasez were plotting something together, but then Lance Bass got involved and at that point, the beans were pretty much spilled. Anyone who was paying attention to Twitter knew what was about to go down by this point, because let's be honest, they didn't exactly try to keep it a huge secret. Not that we're complaining.
So by the time she took the stage, everyone was pretty much just waiting for the moment the members of *NSYNC would reveal themselves.
So is this the most iconic Coachella performance of all time? There's some stiff competition, like when Beyoncé epically splayed that stage at Beychella last year. We're not quite ready to declare a winner, but Ariana definitely cemented her place as a true queen and one of the best Coachella headliners ever.