Arizona Hospital Experiences Huge Baby Boom With 16 Pregnant Nurses
by Cassandra Stone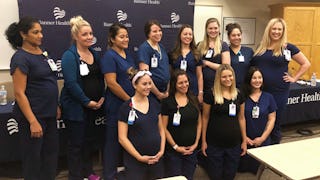 Image via Banner Health
This hospital has not two, not three, but 16 pregnant nurses on staff
There is a certifiable Baby Boom™ happening at this Arizona hospital, because it's not every day you see a place of employment boasting more than a dozen pregnant employees at the same time. And Banner Desert Medical Center has 16 of them.
Can you imagine what the line to the bathroom must be like for these ladies?
To answer a couple of questions right off the bat: nope, there wasn't some sort of "pregnancy pact," nor does there appear to be anything amiss with the water supply at Banner Desert Medical Center. But 16 nurses who work in the intensive care unit are all pregnant at the same time, regardless.
"I know a couple of us did fertility treatments," nurse Paige Packard said at a news conference Friday. "That's how I ended up finding out that everyone was pregnant. I was like, 'Oh, well, I didn't plan this. Did we have some kind of pact going I didn't know about?'"
According to CNN, the nurses say they all like to go to the cafeteria together to satisfy pregnancy cravings. One nurse says she asked a cafeteria worker whether he could make the salad bar more "pregnancy-friendly," and suggested the cafeteria add pickles and olives. "The next day there were pickles and olives," she says.
LOVE. EVERYTHING. ABOUT. THIS.
Another nurse, Rochelle Sherman, who is nearly eight months pregnant, said, "I don't think we realized just how many of us were pregnant until we started a Facebook group and more people kept adding to it."
Nurse Rachel Cosgriff, who is six months pregnant with a baby girl, says several of the nurses planned their delivery dates so they could have their babies around the holidays at the end of the year — many of them are due between October and January. "It's kind of crazy," she says.
Each of the 16 nurses received special onesies as a little surprise gift for them with the saying "Relax! My mom is a Banner nurse!"
Real talk: how much fun would it be to be pregnant alongside so many other women at work? No matter what, there's always at least a handful of other people around you at all times who know exactly what you're going through. And these women are nurses to boot — they're like a walking pregnancy forum with all the right answers. Pregnancy, like new motherhood, can feel pretty isolating at times, especially at work. Not having to feel that way would be a welcome relief.
Congrats to all the soon-to-be moms!