50,000 Arizona Teachers Flood The Streets Demanding Better Education Funding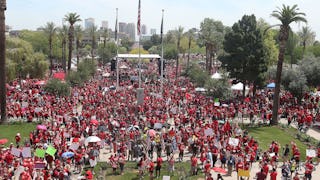 Image via Ralph Freso/Getty Images
Classes have been canceled for lack of teachers in Arizona and Colorado
A sea of people wearing red isn't exactly an unusual thing outside Chase Stadium in Phoenix, Arizona, where the Diamondbacks play. But today, the tens of thousands of people who flooded the streets outside the stadium in bright red T-shirts weren't baseball fans; they were teachers.
According to the Arizona Republic, more than 50,000 teachers and their supporters from all over the state walked out of their schools this week to rally for better education funding. The sheer number of teachers who left their classrooms resulted in entire schools having to cancel classes Thursday and Friday — the Republic estimates 840,000 of the state's 1.1 million students, or 75 percent, have been impacted by school closures.
Arizona Educators United, a grassroots organization that sparked the march, has released five demands for state lawmakers. Teachers and certified staff want a 20 percent salary raise across the board by next school year. They also want smaller class sizes and annual pay raises until Arizona's teacher pay lines up with the national average pay for teachers, around $59,000. Arizona teachers currently average around $47,000 per year.
But that's not all. While Arizona Governor Doug Ducey released a statement saying he would work to raise teacher pay, his proposal to do so was rejected by the AEU, who say the most important thing is that state education funding levels are restored to their 2008 levels after a decade of consistent cuts.
Arizona isn't the only place where teachers have had enough. In Colorado, thousands of teachers rallied outside the state capitol in Denver Thursday and Friday, also seeking better funding for education. They're up against a 25-year-old state constitution amendment that says lawmakers can't raise taxes to fund education. Instead, they're rallying to ask voters to approve a 2018 ballot initiative to raise taxes on corporations and the wealthy, funneling that money into Colorado public schools.
According to NPR, four Colorado counties had to cancel school because of a lack of teachers. A spokesperson from Denver Public Schools confirmed all classes were canceled Friday, adding, "This is the case with most of our surrounding districts as well."
For teachers to leave their classrooms and force class cancelations, things are clearly dire. Hopefully this is the wakeup call needed to spur some action. For the sake of students' futures, schools need better funding.