This Video Of ARod, JLo, And Marc Anthony Together Will Melt You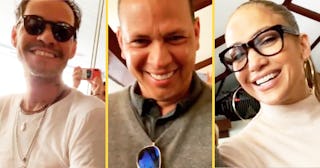 Alex Rodriguez via Instagram
There is nothing sweeter than these three proud co-parents showing up for their kids
Co-parenting would never be described as "easy," but when you do it right, it benefits all involved. This is extremely evident in a new video Alex Rodriguez posted to his Instagram account, where he, fiancé Jennifer Lopez, and her ex-husband Marc Anthony all sat together and happily showed up for a concert at Lopez and Anthony's kids' school.
You can hear adorable, cherubic voices belting out the lyrics to Dolly Parton's rendition of "I Will Always Love You" in the background. ARod pans his camera across the trio to show JLo and Anthony mouthing the lyrics to the song as he sits close-mouthed.
"Those who can, do. Those who can't, sit between two people that can and stay quiet! #imnotasinger," Rodriguez captioned the post.
Apparently Lopez and Anthony's 11-year-old son, Max, had a solo during the concert. And look at these three, just killing it at co-parenting and beaming with pride. It's incredibly sweet and beyond that, it's great for all of their kids to see them together like this.
It seems like talent certainly runs in the family, and not just with these superstar parents. Not only did Max have some solo action here, but his twin sister, Emme, recently went viral for showing off her own set of awesome pipes during a singing lesson (skip to 4:07 to see her wail).
When your mom is Jennifer Lopez and your father is Marc Anthony, the genetics coupled with the pressure to perform is probably pretty high for Emme and Max. But what's really cool is how their parents seem to just let them do their thing their way, hanging back a little while being super supportive. It doesn't get much better than that.
Lopez has previously mentioned that she'll totally support her kids if they seek a career in show business — if that's what they want to do.
"Here's what I know about doing what I do — and obviously their dad is the same way. If they're going to do it, there's nothing I can do to stop them — and I'll support them," she said. "But just like my mom, I'm going to make them go to school and I'm going to let them make that decision when they're old enough to make that decision. I don't want them to be in the business at a young age."
Regardless of where their kids end up, it seems like JLo, Anthony, and ARod are all on the same proud parenting page together and that is a beautiful thing indeed.
This article was originally published on