As Graduation Season Approaches, A Teacher Learns to Let Go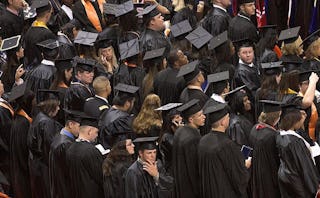 She was picking classes for her final semester of college. She was relieved when I told her she didn't have to take a heavy load. All she could think about, she confessed, was working as much as possible so she could save money to live on her own after graduation. She had three part-time jobs.
Living with her parents, both married to other people, was not an option, she told me. Her father had lost his job, foreclosed on his house and moved into a tiny apartment with no room for her. Her mother was raising younger children and had made it clear my student was not welcome. "I'm just afraid I won't have any place to live," she said.
My heart went out to her. She was a determined first generation college student. The state college where I teach, with its relatively low tuition, attracts a lot of strivers like her. They come to campus with the will to succeed but more than their share of anxieties about money and academic preparation. This student grew up in a rural school district so under-resourced that when she arrived on campus as a freshman, she didn't even know how to send an email. But she loved to learn, worked hard and caught up to her more entitled peers. She often went out of her way to thank me when something I did in class was particularly helpful.
Over the years, we spoke regularly, giving each other glimpses of our lives. When I found out she was a talented singer, I told her about my young daughter's interest in music. When my daughter got a part in a local musical, I shared my excitement. She told me how thrilled she had been when she got her first big role in a high school show, even though her mother had been dismissive about it at first. "She didn't even know I could sing," she said. But on opening night, she caught a glimpse of her mother in the audience, tears streaming down her face.
I couldn't imagine not knowing whether my daughter could sing. She was always belting out show tunes and pop songs. My student may have been quieter about her talent, but I knew there was something else. In a time of finger-wagging over how helicopter parents were ruining their kids' ability to become self-sufficient, she had parents who didn't have the time or the emotional resources to be overbearing, or, at times, even notice what more-entitled parents so fetishized: her special gifts.
In that moment in my office, I wanted to take her into my home, to give her something akin to the care she deserved. We had a guest room. She could be a temporary big sister to my daughter, an only child. This fantasy, I knew, took me far beyond the job description of a professor. I was already doing what I was supposed to do. As her teacher and her mentor, I helped her along her path to a degree that, despite some recent controversy about whether the debt burden still makes college "worth it," remains one of the most important ingredients for her to make a life better than the one her parents had. I didn't have to mother her. But I found myself wanting to.
I told her what a wonderful young woman she was. I said I knew she would find a way to succeed because she worked hard and she cared so deeply. "It is a gift to me to be able to teach you," I said, my eyes filling with tears. I knew I would miss her terribly.
At this time of year, with another commencement day fast approaching, I think of her and the many other students I've grown close to in my decade plus of college teaching. It's hard to say goodbye. I should be used to it by now, but I'm not. In fact as time goes by, my ties to my students feel deeper, richer and, yes, distinctly maternal (and I am indeed old enough to be their mother). I know about their relationships and breakups, career worries, immigration status, battles with depression and health problems no 22-year-old should have to face.
I also feel an intense pride in the young women and men they've become. Several of our students have outdone themselves. They have won national and state reporting awards and been accepted to top graduate programs. They have contributed articles to professional publications and gotten job offers in a still-tight market. I've watched students transform from timid, self-involved teenagers into assertive, mission-driven reporters who make me believe in the future of journalism.
I have started to joke about my feelings. "I only have one child," I say, "but then there are my students." I know the parental metaphor is tricky. I can't really be a mother to this large, perpetually 18- to 22-year-old brood. Mothers don't grade them and write their recommendations, thank God.
Ultimately I have no claim to the complex, ever-changing nature of the real parent-child relationship. The student who came to me with her housing worries didn't need another mother. She did just fine on her own. Just before she graduated, her mother surprised her by asking her to come back home until she got a job. By the end of the summer, she had one. A year later, she became a flight attendant. It's not the typical thing to do with a journalism degree. Nonetheless, I am thrilled for her. I love seeing her Facebook photographs of all the exotic places she gets to traipse through on layover. Even more, I love seeing the photos of her with her mother.
Few real mothers would put up with the rather abrupt departures that take place on graduation day. My college has a tradition of holding department receptions for graduates and their families after the commencement ceremony, complete with a cake frosted in the school colors. Almost no one shows up in the rush to pack up and leave town. The faculty stands in a rather pitiful circle, eating the garish cake.
I try not to take it personally. I tell myself there's really no better goodbye than cheering my ebullient students as they walk across the stage for their diplomas.
We live in a time when the worth of a college education is under scrutiny. Scorecards and rankings sites like Payscale offer families the chance to compare campuses based on graduates' long-term earnings. I don't think any of these sites can truly describe the long-term worth of the emotional ties that can form between professors and students. I can only know that, for me, the value is immense. I hope my students will feel the same.
This article was originally published on