Pregnant Ashley Graham Transforms Into Jessica Rabbit For Halloween Party
by Leah Groth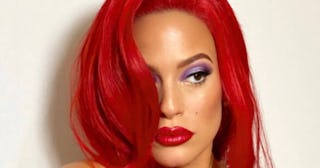 Ashley Graham/Instagram
Pregnant supermodel Ashley Graham was a perfect double for the legendary cartoon sex symbol Jessica Rabbit
Ashley Graham is the best supermodel on the planet. Not only is she literally beyond gorgeous, totally sassy, smart, and creative, she has pretty much the best sense of humor. Currently pregnant with her first child, the 31-year-old refused to dress up in one of those "pregnancy-themed" costumes this Halloween season. Why limit yourself, right? Over the weekend the size-inclusive advocate gave us a glimpse at her 2019 Halloween costume and it's Jessica Rabbit from the 1988 film Who Framed Roger Rabbit?
Pregnant Ashley Graham Is Dead-Ringer For Jessica Rabbit At Halloween Party
Ashley shared a few snaps of her epic costume on her Instagram stories, but the video shared by her hairdresser, Justine Marjan, made us drop dead.
"I'm not bad I'm just drawn that way," Jessica, um Ashley, drawls as she imitates the sexiest cartoon character that was ever drawn. Red hair, nailed. Red lips, perfectly filled and lined. Coordinating purple eye shadow and gloves, check. Um, seriously, will the real Jessica Rabbit please stand up?
Also making an appearance as part of Ash's costume was that baby bump. It was perfectly popping out underneath her skintight, red latex dress. (Insert fire emojis here.)
She also shared an illustration of her inspiration, which her makeup artist, hairdresser, and stylist clearly nailed.
Ever since announcing her pregnancy in August, Ashley has become a serious role model for all expectant mothers. Shortly after her big announcement, Ashley shared a revealing photo of her nude pregnant body — stretch marks and all. "Same same but a little different," she captured the image.
The photo ended up inspiring other women to share untouched and raw photos of their uniquely beautiful pregnancy bodies as well, many of which Ashley reposted in her Instagram stories.
She has also been sharing a slew of photos and videos of her pregnancy workouts, encouraging other pregnant women to make healthy living a lifestyle.
In one of her most recent posts, she took video footage of her nude, pregnant curves.
"Getting bigger and bigger and trying to embrace my new body everyday," she wrote about her growing curves. "It's a journey and I'm so thankful to have such a supportive community."
From empowering pregnancy selfies to the sexiest maternity Halloween costume ever, we think it's safe to say Ashley Graham is living her best pregnant life.
This article was originally published on