Ashley Graham On Mom-Shamers: 'Mean Girls Who Grew Up To Be Mothers'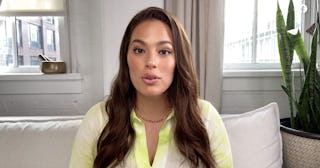 Red Table Talk/Facebook
On Facebook Watch's Red Table Talk, Ashley Graham talked with Jada Pinkett Smith about mom-shamers
Ashley Graham may still be a new mom, but she's no stranger to mom-shaming. Ever since she gave birth to her son, Isaac, at the beginning of this year, Graham has had to deal with shamey, judgey trolls non-stop. She talked about how it affects her and how she deals with it on an episode of Red Table Talk with Jada Pinkett Smith last week.
"Mommy shamers are just mean girls who grew up to be mothers," Graham said during the candid discussion that also included Willow Smith, Adrienne Banfield-Jones, and Jessica Alba. "It never feels good to have someone tell you that you're not doing a good enough job, that you're doing something wrong."
Graham has regularly shared photos of herself while she breastfeeds her son, and, as a result, has received regular hate about her choice to "expose" her boobs for the sole purpose boobs exist. She tells Pinkett-Smith that because she's been a plus-size model for so long, people just inherently view her body as sexual. Because lots of people are fatphobic, one-dimensional assholes!
"It's interesting because my whole career has been based around body shaming because I'm a curvy girl who has come into a skinny world, and said that my body, and other bodies like mine, need to be normalized," she said. "I knew that [mom-shaming] was coming and I was ready to combat it, but it never feels good to have someone tell you that you're not doing a good enough job, that you're doing something wrong."
https://www.instagram.com/p/CGfQ89Yjbc5/
Aside from trying to normalize bodies that aren't conventionally thin, Graham is also trying to normalize breastfeeding by sharing pics of herself while she's pumping (backstage at fashion shows and sitting topless on the couch, thank you very much) and nursing Isaac. Because feeding babies shouldn't be controversial, but the U.S. is full of puritanical jackasses with Freudian issues galore, so, yeah. Here we are.
https://www.instagram.com/p/CGkLkAejkez/
"My whole career is based off of being sexy and my breasts have been the forefront of many magazine covers, so then to flip to my baby is there sucking on them, I think that people just had to switch their minds, but they are multi-purposeful," she said.
Pinkett-Smith echoed Graham's sentiments about feeling shamed for breastfeeding.
https://www.instagram.com/p/CFfFmkbD_f1/
"I remember when I would be out with Jaden and Willow breastfeeding," she said about her two kids with husband Will Smith. "Remember I used to have that little breastfeed cover, and it would make it so difficult. They're in there, they're suffocating, I can't see them. I had so much anxiety about it because back when I had them, breastfeeding was like, What?! What are you doing?!"
More honest conversations like this, please, and less judgment over things that shouldn't be judged. You want to shame someone for not vaccinating their children or engaging in actions that directly impact the world around them in a negative way? GO FOR IT. Anything else is just useless noise.