Ashley Graham's New Instagram Video Shows She Loves Her 'Body-Ody-Ody-Ody'
by Erica Gerald Mason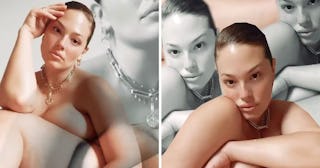 Ashley Graham/Instagra,
The model shows us how a diva takes care of business
The game is fierceness. Ashley Graham is here to PLAY, do you hear me? On Saturday, the supermodel and vlogger who is NOT HERE FOR YOUR MOM SHAMING took to Instagram to publish a new video of her in only gold jewelry, black underwear, and those amazing cheekbones.
Posing for the gods, Yahoo reports Graham set the mood with Kelly Rowland's song "Crazy" playing in the background. Graham took the chance to celebrate her form in a proclamation of self-love and body positivity.
"I love me, not every day, but most!" she captioned the video, which revealed her torso cloned into three variations of herself with various filters. "Anyways … Body-ody-ody-ody-ody-ody-ody-ody-ody," she said, in a shout-out to Megan Thee Stallion's latest mega-hit, "Body."
Graham is beloved by celebs and regular folks alike, mostly because she keeps it real. Like, real real. While also being incredibly beautiful, glamorous, and confident all at the same time.
Graham knows how to work her angles. In December, she posed in a faux fur jacket, with only a pair of pink Juicy underneath. "I keep it juicy, juicy I eat that lunch," Graham captioned the photo, in reference to a Doja Cat song.
Back in October, Graham hopped out of the shower and snapped a nude selfie.
"Nakie big girl," she captioned the picture, in which she posed with her arms around her chest.
Also in October, Miss Ashley served us all glamour with a capital G when she posed in underwear and boots in front of her closet.
"Looks like the spaghetti went to my butt," she captioned the snap.
Graham divided the internet in February 2020, when she took a picture of her changing her baby's diaper in the pen aisle at Staples. Some thought it was gross that she changed a poopy diaper in public. Other's praised her for showing what mama life is really like.
Graham is the body positivity best friend in all of our heads. Back in 2018, when a commenter complimented her as a "real woman," Graham was swift to answer that saying who is and is not a "real woman" pits women against each other.
"We are all real women," she wrote on Instagram at the time. "I can't stand it when I read comments that say, 'Finally, a real woman.' No matter your size/shape/amount of cellulite — we are in this together."