Ashley Graham Announces 'Thank Bod' 5-Day Online Fitness Challenge
by Madison Vanderberg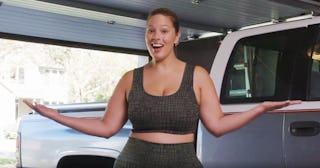 Ashley Graham/Instagram
Ashley Graham is back with her "Thank Bod" fitness videos
Last year when Ashley Graham was pregnant with her son Isaac, she and her personal trainer Kira Stokes decided to create a pregnancy fitness program called "Thank Bod." They released the "Thank Bod" videos for free online so us regulars could join in on the workouts and now that Graham is a new mama, she's back with more body-positive workouts.
"This is designed for you — the newbies, the professionals, the new mamas, the postpartum [folks], the pregnant mamas," Graham said in a video announcement about the new season of her fitness series.
Telling her followers that it's been a "challenge" to get active again since giving birth, Graham emphasizes that "Thank Bod" is "not about losing weight… this is all about feeling strong and powerful and grateful in our bodies."
The second season of the at-home workout show starts off with a five-day challenge. Every day for five days, Graham will drop a new workout video on her YouTube channel starting with Day 1's "Perfect Full Body Workout." Oh and Day 1's workout is equipment-free, which is great news for me, because I think I have one workout band in a backpack somewhere and a single 3-pound weight I'm using as a door stopper. Cool!
"Just like last season, we're here to not only push ourselves but also practice gratitude for our bodies. It's time to THANK BOD! Let's make our sweat sessions fun and full of endorphins. Remember we are all supermodels," Graham says.
The five-day challenge will run from October 5 to October 9, and if five days of workouts aren't enough for you, you can always revisit Graham's pregnancy workouts from Season 1 of "Thank Bod," which are always available on her YouTube channel.
Graham's cheery and delightfully positive attitude is the exact vibe I need to muster up the enthusiasm to exercise. Thanks queen!
This article was originally published on