Ashley Graham Shuts Down Troll Who Asked If She Was Pregnant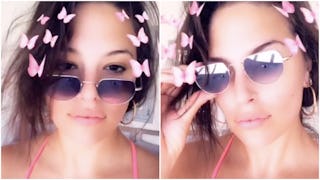 Image via Ashley Graham/Instagram
Ashley Graham had an A+ response for a troll who asked if she was pregnant
Ashley Graham is a lot of wonderful things. She's a fierce as all hell model, she speaks up loudly about body positivity, and she's breaking boundaries in the fashion industry. She also shuts down internet trolls in the best way possible. Case in point: the model had an excellent response to a recent comment that suggested she was pregnant.
Graham took to Instagram to share a video of herself grooving in a pink bikini, shades, and a cute butterfly filter that I must have immediately. All fine and good, right?
Then, the Instagram account @commentsbycelebs caught the following exchange:
"Good Morning… Ashley!!!!$ Looking good…. Baby bump…. :)))))," one user wrote.
"@magbody that's just called fat," Graham replied.
So, what is the moral of this tale? People should never, ever talk about someone's weight. Or make an assumption that they're pregnant. Or make ANY general comments about their body whatsoever (unless it's a very, very genuine compliment without even a whiff of a backhanded insult).
If you don't follow those basic rules, Graham is coming for ya with a carefully worded burn from which you will not soon recover.
The model consistently speaks up loudly and eloquently against body shammers. Last year, she penned a powerful post in response to trolls who criticized her for working out (yup, some people have way, way, waaaaaay too much time on their hands).
"Just for the record, I workout to: stay healthy, feel good, get rid of jet lag, clear my head, show big girls we can move like the rest of em, stay flexible & strong, have more energy," she wrote. "…I don't workout to [lose] weight or my curves, [because] I love the skin I'm in."
Graham also publicly addresses some of the misguided compliments she receives. In one recent Instagram post, she explained that she "can't stand" when Instagram users compliment her on being a "real woman."
"We are all real women," she wrote. "…No matter what your size/shape/amount of cellulite—we are in this together."
All bow down to Ashley Graham, queen of clapbacks, body positivity, and self-love. My leg cellulite is forever appreciative.
This article was originally published on