Husband Gives Urgent Warning About Allergy 'Peak Weak' After Losing His Wife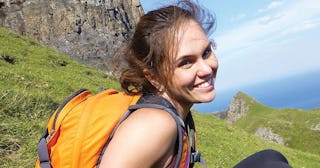 AAFANational/Youtube
After his wife's death from an asthma attack, DeMarco has been educating people on 'Peak Week'
One man is sharing the loss of his wife with the world as a warning about what many who suffer from asthma don't know — there is one week a year that sees the most asthma attacks in the country — and had his wife known, it may have saved her life.
According to the Asthma and Allergy Foundation of America, the third week in September is Asthma Peak Week, a week when "both adults and children with asthma are exposed to more asthma and allergy triggers such as ragweed pollen, respiratory infections, and dust and mold in school buildings." Peter DeMarco's wife, Laura, died during that week three years ago after suffering a severe asthma attack. He's spent the years since her death spreading the word in hopes that no one else suffers a loss because of it.
Demarco wrote about Laura's death in The Boston Globe, saying in part, "Some 10 minutes passed between the time Laura called 911 and the time she was found, in cardiac arrest following a devastating asthma attack. Those 10 minutes meant her life." Laura was alone and attempting to get into the ER of a local hospital but the doors were locked and she couldn't get in. By the time help came, it was too late.
Since Laura's death, DeMarco has been speaking out about the dangers of Peak Week and how people can prepare themselves for this time of year by having their medications up to date, having inhalers available whereever they go, and telling their loved ones at the first sign an attack is coming.
https://twitter.com/jetpack/status/1173311762810249217
According to the CDC, about 1 in 12 people (about 25 million) have asthma, and the numbers are increasing every year — this means 7.7 percent of adults and 8.4 percent of children. Asthma has been increasing since the early 1980s in all age, sex and racial groups and asthma attacks can be triggered by environmental factors like mold, pollen, and air pollutants.
Laura did the right thing by going to the hospital and trying to get help but had she known the severity of the time of year, DeMarco believes, she would still be alive. "She died minutes after I let go of her hand in the third-floor hallway of that hospital," he wrote, "after a team of doctors wheeled her through a set of double doors into an operating room, cutting into her beautiful body so that others could have life and sight from her gifts, including her heart."
DeMarco is continuing to raise awareness by speaking out about Laura's story on his website where he gives information on how people can educate themselves and to keep her memory alive.
"There is no replacing the people you love in life – no replacing their laugh, their smile, their touch, their kiss," DeMarco wrote. "But there is remembering. So please remember Asthma Peak Week. Remember Laura Beth Levis, and her story. Help, just maybe, save someone else's life by spreading the word."