Astronauts Are Sharing Tips On Staying Sane During Quarantine
by Christina Marfice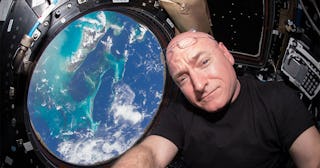 NASA/Getty
Not sure how to stay healthy and productive while isolating? Astronauts can help you out with that
The novel coronavirus and COVID-19, the deadly respiratory illness it causes, are continuing to spread around the globe. Over the weekend, the U.S. in particular saw huge, exponential growth in cases, with thousands of people testing positive for the illness now each day. That means social distancing is more important now than ever, and with a number of cities and states newly under "shelter in place" orders, people are increasingly being told to stay home and to perform only errands that are absolutely essential to life. Many people are finding the isolation to be tough, which is why astronauts gathered on social media over the weekend to share some of their best tips to help all of us get through this.
If there's anyone who knows how to stay happy, healthy, and productive in isolation in a small space, it's astronauts who have done stints on the International Space Station lasting months or even years. They also understand the struggles that can occur when you're forced to combine your work and home environments into one. NASA's Anne McClain had a long thread of good advice for that.
According to McClain, there are five important skills astronauts need to hone to live their best lives in the confines of a spacecraft. In her thread, she defined all of them, and shared how they can best be applied to living and working in isolation.
McClain ended her thread with a little encouragement.
She's not the only astronaut sharing tips. Canada's Chris Hadfield, who was famous for making video blogs during his time living on the International Space Station, had some tips of his own.
And NASA's Scott Kelly wrote in to the New York Times to share some of his favorite tips, which ranged from problem solving during a time of crisis, to staying in physical shape when confined to a small space like your home or apartment.
All-in-all, the self isolation many of us are experiencing right now is very different from living in space for months on end. But there are enough similarities that advice from astronauts can definitely help us better navigate these uncharted waters. Hopefully, our isolation will be over long before the months that astronauts spend in space, but only if we all do our part and keep up that social distancing to stop the coronavirus from spreading.
Information about COVID-19 is rapidly changing, and Scary Mommy is committed to providing the most recent data in our coverage. With news being updated so frequently, some of the information in this story may have changed after publication. For this reason, we are encouraging readers to use online resources from local public health departments, the Centers for Disease Control, and the World Health Organization to remain as informed as possible.