10 At-Home Workout Products So You Never Have To Go To The Gym Again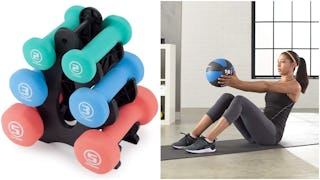 Image via Amazon
Say goodbye to the gym with these super useful at-home workout products
Alright, let's get very real here. You are probably currently way too cold, way too busy, and way too exhausted to go to the gym. If you want to kiss that membership goodbye – at least until it stops snowing – we tracked down some at-home workout products that are super useful and don't involve leaving your bedroom ever.
*Big bonus points* none of these include residual sweat from strangers and grunting from that guy doing squats next to you.
Lift these weights at home while watching Friends and you'll BARELY be cranky. This goodie comes with three sets of cushioned weights and a stand to store them.
Get your upper body game on even further with these cast iron kettlebells. They come in various weights, have a comfortable grip and – once again – can be used while doing all the Netflix binging.
Get a very intense total body workout with these resistance bands. They're double layered for extra resistance and have a multi-clip system so you can adjust the workout based on your level of expertise (aka newbies to the resistance bands game can still easily hang).
This medicine ball is ideal for both upper and lower body exercises. It comes in a variety of weights, was designed to easily bounce off of surfaces, and has a textured surface so it won't slip out of sweaty hands. Wins all around.
This handy balance ball can be used for yoga, pilates, or just as a substitute for a chair so you can put in some ~work~ while you do your work.
Speaking of yoga, you can get your zen game on with this thick, comfy mat with a non-slip surface. *Bonus points* it's currently #1 in Amazon bestsellers.
Get your step on with this aerobic platform. It's super durable and can be adjusted for height in order to increase/decrease your workout difficulty.
Can't forget the dreaded ab workout. This roller will make things a little bit easier with its rubber handle grips and dual wheel design.
Your family will only be minorly irked that they have to listen to you bounce all the time. You, on the other hand, will be having a ball.
A legit exercise that involves sitting?!? Sign me up IMMEDIATELY. This cycle offers a low-impact cardio workout that can be used for your arms and legs. Did I mention you can do it sitting down? Life is good.
Working out just became so, so much more fun. Goodbye gym membership, hello cozy at-home time.
We are a participant in the Amazon Services LLC Associates Program and Walmart.com Affiliate Program. We may earn fees by linking to Amazon.com, Walmart.com, and affiliated sites.
This article was originally published on