At This All-Female Auto Shop, Get Your Car (And Hair, And Nails) Fixed By Badass Ladies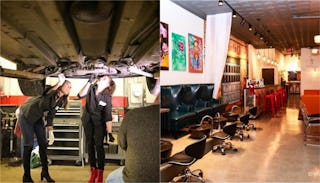 Via Girls Auto Clinic / Clutch Beauty Bar / Instagram
Why didn't anyone think of combining an auto shop and a salon sooner?
Getting a car serviced is one of the most stressful situations out there — especially if you're a woman who doesn't know the first thing about cars. It's definitely no secret that there are shady shops out there that take advantage of women, especially the ones who don't know how to call them on their bullshit. There's got to be a solution to this, right?
Enter Girls Auto Clinic. The Philadelphia-based auto shop made headlines when it opened in 2013 due to its all-female staff of mechanics and its goal to fix cars while offering a safe, empowering space for women to learn more about their vehicles.
Now, the shop is in the news again due to a downright genius addition: the Clutch Beauty Bar, where women can get their hair and nails done while they're waiting for their cars to be serviced.
The new salon portion of the shop offers manicures, pedicures and blowouts, meaning ladies who get their cars serviced at Girls Auto Clinic not only know they're getting quality car care, they also leave feeling pampered and refreshed.
And after getting their beauty treatments out of the way, they can still take part in what the Girls Auto Clinic was established to provide: Its founder, engineer and mechanic Patrice Banks, always wanted the shop to be a place where women could escape the mistreatment they so often face from male mechanics and learn about their vehicles from respectful, supportive women who want them to be as knowledgeable as possible.
Banks even created a hashtag to describe herself, her employees and her customers: #sheCANics.
https://www.instagram.com/p/BSMeuiCBFuS/?taken-by=girlsautoclinic
Unfortunately, the Philadelphia location is the only Girls Auto Clinic that's currently open. We're crossing our fingers for Banks to start franchising this genius idea though, because we need this in every city.
This article was originally published on