21 Attorneys General Call On Trump Administration To End Family Separation Policy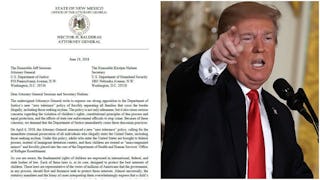 Image via NBC News
Since April, 2000 families have been separated under Trump's administration
In a letter to U.S. Attorney General Jeff Sessions and Homeland Security Secretary Kirstjen Nielsen, 21 attorneys general implored the Trump administration to end their "zero tolerance" policy that has resulted in over 2000 children being separated from their parents at the U.S.-Mexico border since April.
The letter, written by New Mexico Attorney General Hector Balderas and signed by top state prosecutors from Iowa, California, Connecticut, Delaware, District of Columbia, Hawaii, Illinois, Maine, Maryland, Massachusetts, Minnesota, New Jersey, New York, North Carolina, Oregon, Pennsylvania, Rhode Island, Vermont, Virginia and Washington, demanded an immediate change, calling the policy "inhumane."
The letter raises concerns about how the government is treating families seeking asylum in the United States saying, "This practice is contrary to American values and must be stopped."
Additionally, at least ten Democratic senators and members of Congress have asked Homeland Security Secretary Kirstjen Nielsen to resign as a result of the immigration policy, NBC News reported. "The government should be in the business of keeping families together, not tearing them apart. And the government should have a commitment to transparency and accountability. Under Secretary Nielsen's tenure, the Department of Homeland Security has a track record of neither. As a result, she must resign," Kamala Harris (D-California) said.
Democrats aren't the only ones to speak out. In addition to all five former first ladies stating this policy is immoral, Joe Straus, the Republican Speaker of the Texas state House wrote a letter to Trump stating in part, "I respectfully ask that you move immediately to rescind the policy that General Sessions announced in April and any other policies that have led to an increase in family separations at the border. None of us want to imagine the fear that overcomes young children who are forced out of their parents' arms, which adds to the trauma that they have often faced in their countries of origin."
As a nation, we've seen and heard heartbreaking stories of families being torn apart when a parent or guardian doesn't show up at a port of entry to claim asylum with proper paperwork. It should enrage every single person in this country what is happening to these families. It is unacceptable beyond all measures.
The AG continues, "These practices directly interfere with the efforts of our offices and other law enforcement officials — locally, nationally, and internationally — to prevent and prosecute crime. In most states, attorneys general are responsible for enforcing laws that include human trafficking, drug trafficking, and gang violence offenses. As you are keenly aware, these issues are rarely local in context, rather they require the efforts and collaboration of law enforcement officials across both state and international borders to prevent the widespread and syndicated perpetration of these crimes."
It's unclear just what it will take to cause this administration to back down on these obscene violations of human rights. "Put simply, the deliberate separation of children and their parents who seek lawful asylum in America is wrong," the letter finishes. "We demand that you immediately reverse these harmful policies, as it is in the best interests of the children and families affected."