Australian Women Respond To Police Advice To 'Take Responsibility' For Their Own Safety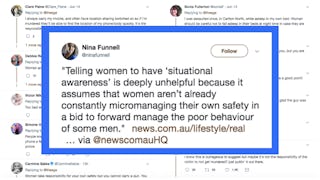 Image via Twitter/NinaFunnell
Australian women had some thoughts about police telling them to "take responsibility" for their safety
Last week, Australian comedian Eurydice Dixon was heading home after a gig when she was raped and murdered. Police officers responded by releasing a statement that urged people walking at night to "take responsibility for their safety." Australian women and women across the internet quickly sounded off on those words of advice, explaining that they were packed with victim blaming and ignorance.
Dixon was murdered while walking through a park in a Melbourne suburb. Shortly after her body was discovered, a 19-year-old man turned himself in to the police. During a press conference about Dixon, Detective Andrew Stamper told the public: "My message is that people need to be aware of their own personal security, and be mindful of their surroundings. We would rather have too many calls than too few."
Local Superintendent David Clayton backed up Stamper's statement and urged people to "have situational awareness" and be "aware of your surroundings." "If you've got a mobile phone carry it and if you've got any concerns, call police," he said.
There are a lot of issues with these statements. First of all, they place the blame of assault on women. It's up to women to be constantly aware of their surroundings instead of it being up to men to not rape and murder women. Second of all, most women are aware of their surroundings. Most women do carry their cell phones on them. And most women have keen "situational awareness," especially when they're walking home at night (my personal favorite: keys between the fingers, nervously looking behind me every ten seconds).
People took to Twitter to challenge Victoria Police's statements. Many were quick to emphasize that women don't need to be reminded to be careful. We're already worried about our safety most of the time.
Others gave Victoria Police a quick lesson in victim blaming.
Yup, once again for the people in the back. Women are doing their damndest to stay safe. Men are the ones who need a serious, serious talking to.
Hopefully, statements after tragedies like this can focus on what police officers will do to ensure women's safety and also a loud, loud discussion of all the very serious repercussions men will face if they commit a crime.
This article was originally published on