Author Glennon Doyle Marries Soccer Star Abby Wambach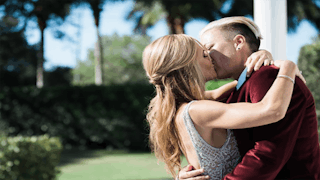 Image via Instagram
"Please never give up on love. Life could surprise the hell out of you."
On Sunday, Love Warrior author Glennon Doyle married retired soccer star Abby Wambach. It was sunny, it was full of love, and it was awfully purty.
In an Instagram post yesterday morning, Doyle announced the pair's marriage and included a beautiful photo from the wedding.
"My beloveds," she wrote beside one photo, "please never give up on love. Life could surprise the hell out of you. Trust me — you might just wake up one morning and find yourself smackdab in the middle of heaven. I love my wife. LOVE WINS."
Doyle is best known as the founder of the blog Momastery and the author of two best-selling books. Her first book, "Carry on, Warrior," discussed her battles with substance abuse and an eating disorder, and her second book, "Love Warrior," detailed the break-up of her marriage to former husband Craig Melton. Her relationship with Wambach started not long after her divorce, a fact that she was straight-forward about when she shared their relationship with her fans in a now-famous Facebook post in November.
By February, they were engaged. And now they're married. It's been a whirlwind, but as Doyle herself wrote, "…oh my God, she is so good to me. She loves me for all the things I've always wanted to be loved for. She's just my favorite. My person." Sometimes, you just know.
Their wedding looks beautiful — I mean, that dress? That red velvet jacket? Mercy me. And we love their sense of humor about the media storm that erupted over their relationship, as evidenced in this sweatshirt Wambach sported the day after the wedding.
https://www.instagram.com/p/BUHZbO7lcrb/?taken-by=glennondoylemelton
Check them out. That's some happiness right there.
Wedding guest and author Elizabeth Gilbert summed up the night with this fantastic photo:
Wrote Gilbert: "These two warrior women chose joy over fear, when they decided to say yes to love, and to completely change their lives around each other. And this is what it looks like."
Oh, the sighs. Thanks for the love story, you two.
This article was originally published on