Best-Selling Author Glennon Doyle Melton Announces Engagement To Soccer Star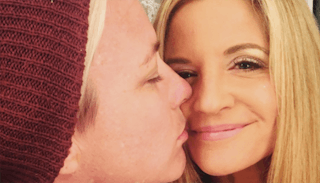 Glennon Doyle Melton is getting remarried
New York Times best-selling author Glennon Doyle Melton and soccer star Abby Wambach announced their engagement over the weekend. The pair took to social media to publicize the news, Melton writing on her Facebook page, "Abby and I have decided to hold hands forever. Love Wins."
Not surprisingly, the internet had a lot to say about the union, the timing, and the fact that Melton is choosing to marry a woman.
Melton has never shied away from posting honest and deeply personal information, giving her followers a rare window into her struggling marriage, addiction and battle with eating disorders. This openness has earned her a massive social media following and even more who have purchased her books, New York Times bestseller "Carry On, Warrior: The Power of Embracing Your Messy, Beautiful Life" and her 2016 memoir "Love Warrior," an Oprah Book Club pick. She decided to approach her relationship with Wambach in the same open manner since falling in love late last year.
However, sharing private details of your life with the public comes at a cost. When Melton announced her recent engagement with Wambach, coming just months after her divorce, people were quick to criticize her for moving on so quickly and pushing their agenda on to someone else's life.
"This, too, should end soon. Seems no one can hold a true relationship together anymore."
"Sounds like this woman is dealing with a lot of stuff… everyone should be happy but if you told me this was done in three years, would anyone be surprised?"
"Divorces you and then starts this public celebration on social media. I can only shake my head at the dissolution of a family. SJWs have it all figured out and we must bow to their every whim."
Melton has been open about her newly blended relationship with Wambach, their kids, and her ex-husband saying, "She's unwaveringly good to Craig, to the kids, to Sister and to all my people. And oh my God, she is so good to me. She loves me for all the things I've always wanted to be loved for. She's just my favorite. My person." Just because someone thinks they know part of someone's story doesn't mean they are entitled to know its entirety.
No one else knows what happens in a marriage, even with someone as public as Melton. To assume an outsider has a thorough understanding of why someone's marriage failed, or precisely when, is not only impossible — it's no one else's business. It is asking them to put into words the dissolution of two people, to assign blame that will somehow justify their decision in your eyes. What it's really asking is if they fought hard enough for an outsider to somehow feel comfortable with the outcome. And that, my friends, is not their job.
Melton blends her writing and speaking with her faith, often speaking about her books at Christian events. Her engagement to Wambach has caused a lot of backlash with folks calling themselves Christian and spouting Bible verses at the idea of same sex marriage, while standing in judgment of someone else.
All the while she's maintained her honesty and transparency, and we love her for it.
This article was originally published on