I Was Already Worried About My Autistic Son Starting Kindergarten -- Then 2020 Happened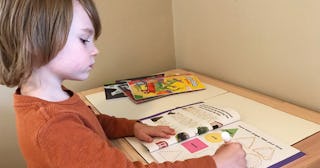 Courtesy of Emily P.G. Erickson
When I told him that school would start in distance learning this fall, he threw his arms open wide and started spinning.
"That's a big reaction," I said. "What's going on?"
My 5-year-old didn't stop twirling when he shouted his answer, "I'm excited I won't die!"
* * *
Last year, before we knew he was autistic, I took Owen to a mandatory kindergarten screening. Outside in Minneapolis, the oak leaves had already turned bright red. Inside the school building, I sat in a hard grey plastic chair, the kind that seemed old the day it was made. I waited there while a woman with short brown hair took Owen to the other side of a fuzzy cubicle wall. After, I sat in a different hard plastic chair to hear the results. "He won't be successful in Kindergarten," she said.
What did she mean? Owen knew more about black holes than anyone else in my life. Surely he could handle sight words and circle time. She tilted her chin, looked over her glasses, and said, "But he can't hop."
By the time the leaves dropped, I had purchased a white 3-inch binder to organize Owen's appointments: occupational therapist, psychologist, a hockey team's worth of early childhood special educators. I had to buy extra binder dividers to account for each one. The goal of it all: help Owen be successful when he went to the Big K, kindergarten.
The week we were supposed to finalize Owen's special education plan, the trees budded green and the NBA suspended their season. We postponed our meeting.
We postponed everything. The binder stayed on the shelf, tucked between Social Skills Activities for Kids and The Ultimate Book of Space. "Early intervention is critical," autism experts will tell you. But here we were. Without intervention of any kind.
I had imagined it so clearly: Owen, his blonde hair long the way he likes it, turning from a hug to run up the steps of his big kid school. He'd be wearing an outer space backpack bigger than his back and holding his beloved piece of macrame cord, something his special education plan would explicitly permit.
Now I imagined other things: Death and sickness suspended in the spring air. I could picture it as clearly as everything bad that had ever happened to me and many other bad things that never had. I wrote a social story about the coronavirus to help Owen understand. "To be helpers in our community right now," I wrote, "we need to stay home while we wait for the virus to go away." We waited. I worried.
At first, it was like a roller coaster. My stomach dropped, down down down. There was no bottom. And there was screaming. Owen screamed at the disruption to his routines. His 2-year-old brother screamed at Owen's screaming. And, sometimes, I screamed at them both. Then, slowly slowly, things steadied.
We began to take daily bike rides around the neighborhood. We talked about the importance of caring for each other. When we circled around the elementary school, I said, "Here's where you'll go to kindergarten when it's safe."
Then, a few blocks west of Owen's elementary school, just after the oak leaves had completely unfurled, a police officer kneeled on George Floyd's neck for eight minutes and 43 seconds.
The roller coaster started up again. Owen's bike wheels crushed meringues of ash and he wondered about the big black helicopters looping low and loud over our house. So instead of teaching Owen how to hop or write his name, I taught him about race, justice, and what's right.
When the oak trees were full and lush, I decided that playgrounds were an acceptable risk. We hadn't been in five months. I felt melancholic about all of the things Owen couldn't yet do with his body, things that maybe he could have, in a different version of 2020. Right away, Owen saw the zip line, a long tube with a circular seat attached to a track. When I first helped him up, he smiled wide enough to scrunch his mask and flailed his arms and legs — the physicality of it a thrilling mystery to him. That's why I couldn't believe what I saw a half-hour later: Owen zipping along, all by himself.
* * *
When that educator told me my autistic son wouldn't be successful in school, my first thought was, Oh no. It should have been, What is she talking about? "Success" isn't the goal. Growth is. And growth can look a million different ways. It can look like chartreuse buds in springtime and crimson leaves in autumn. I wouldn't have wished for the conditions that have shaped Owen's growth this year — and yet this is the year he was given.
I shouldn't have been surprised that Owen reacted with joy and perspective to the news that kindergarten would start in distance learning this fall. He's been growing this whole time. Owen still can't hop. But I'm no longer worried about whether he will be successful in school. Owen has shown, without a doubt, that he has the capacity to grow and adapt to the world as it is. I think that can be enough.
This article was originally published on