Ava Phillippe's Sweet Insta Tribute To Reese Witherspoon Is Mother-Daughter Goals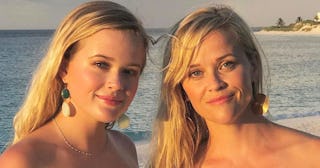 Ava Phillippe/Instagram
Reese Witherspoon and Ava Phillippe have the mother-daughter relationship of our dreams
Get you a teenage daughter who talks about you like Ava Phillippe does about Reese Witherspoon. Phillippe wrote the most adorable, emotional, and sweet Instagram note about her mom, and it's not even Mother's Day. On a random day in July, 19-year-old Phillippe was like, "You know what? I just really love my mom." Here's what the UC Berkley student had to say about dear ol' (insanely talented and brilliant) mom:
"This is the gorgeous woman who taught me about the power of graciousness, love, ambition, and hard work. She inspires me everyday to live with gratitude for the life I've been given and compassion for others. I'm thinking about her a little extra today, that's all," Phillippe captioned the lovely photo of Witherspoon.
Naturally, Witherspoon commented: "How did I get so lucky to have a daughter like you?" Awwwww.
And the mother-daughter #goals don't end there.
At the premiere of Big Little Lies Season 2, Witherspoon brought her daughter as her date and Phillippe gushed over her mom's role in producing the show.
"Big Little Date Night," Phillippe wrote. "Congrats to every member of #BLL2 crew! So especially proud of my mama and her passion for this story and her work. After seeing just the first episode, I honestly cannot wait to see more!"
A 19-year-old who both adores her mom and what she does for a living?!?! Wild.
In a 2017 article interview Vanity Fair — back when the internet was obsessed with how much the mother-daughter duo looked alike — Witherspoon directed the conversation away from their shared DNA and towards how lovely her daughter is.
"I do see the resemblance," Witherspoon told Vanity Fair. "She's a beautiful person inside and out. She's just a good soul. I'm not sure what she thinks. I'm just 'Mom' to her. We're happy to share this wonderful experience. I really have a rich, personal relationship with my daughter. I have a really great career, and it's nice to be able to share it with my kids."
Like, this isn't even fair. They're simply adorable together.
Be the relationship-between-Reese-Witherspoon-and-her-daughter-Ava-Phillippe you wish to see in the world.